Cultivate Kansas City's Newsletter - June 2015
New to the Urban Grown Tour? Check out these ideas to get you started!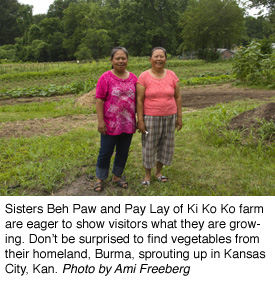 By Amanda Perry, Urban Grown Tour volunteer
If you're not already excited about the Urban Grown Tour, it's time to get amped up with less than one month to go until the big event! It's also time to start thinking about how you want to dig in and experience the farms and gardens. The beauty of a self-guided tour is that you get to craft your own adventure. The potentially intimidating downside – especially if you're a tour newbie – is that you have to figure out how to do that.
Fear not!
While exploring your urban food community during the Urban Grown Tour, you can take whatever time and path you choose. If you're new to the tour or looking for some new perspectives on how to experience it, here are some suggested options and navigational tips to get you started:
* First, a few basic time parameters. Think about how much time you have to spend exploring the 30 available farms and gardens on the tour. You can have an amazing experience in the one to two hours you can squeeze into your weekend, or the full day(s) spent soaking it all in. Budget about 30 minutes on average for each site. You could be as quick as 15 minutes and as long as two hours engaging in conversation, listening to music, and participating in workshops. Now take your total available time and figure out about how many stops you think you can make.
Then you could…
* Stick to a neighborhood! Explore the diversity of growing taking place in one community – be more efficient with your time; see more sites with less driving. Suggested clusters include Downtown Kansas City, Kan. sites (#4-#8) or Northeast Kansas City, Mo. sites (#10-14).
* Visit the farmers you shop from at market or enjoy on the menu at your favorite farm-to-table restaurants! (#1, #2, #5, #8, #21, #25, #26, #28, #29, #30)
* Interested in engaging youth with gardening? Check out the school gardens and community projects that focus on growing with youth. (#3, #7, #15, #17, #18, #22, #23, #24)
* How can gardens feed those in need of fresh food? These garden projects focus on giving back to their community! (#4, #9, #13, #16)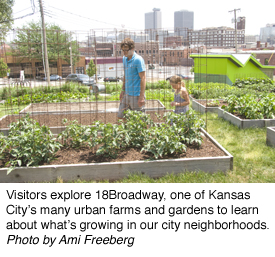 * Want to integrate food into your landscaping at home? These sites can give you some inspiration and knowledge (#3, #10, #12, #13, #19, #27)
* Food brings people together – see this in action on the tour with these community-oriented farms and gardens (#3, #4, #6, #7, #10, #13, #14, #17, #18, #20)
* Are you a workshop and live-event junkie? Check out the full weekend schedule and plan your visits around when you can watch others in action.
* Ready to ditch your car for bike or bus? Join a group bike ride on Saturday morning at 9 a.m. to hit the Northeast Kansas City, Mo. sites or Sunday at noon to hit the Downtown Kansas City, Kan. sites. Check the Cultivate Kansas City website for details. You can also select to visit sites along the KCATA bus routes or create your own urban grown carpool.
The most important part of your Urban Grown Tour is YOU and the experience you create in exploring Kansas City's food landscape. Pick an option above that sounds the best to you and go for it! So grab your Tour guidebook, check the Cultivate Kansas City website and Facebook page for updates, recruit your family and friends, and get out there June 27-28 to celebrate good, urban grown food in Kansas City!
Quick links
Urban Grown Tour map
Urban Grown Tour tickets