Cultivate Kansas City's Newsletter - September 2015
Carrots and Basil and Beets, Oh My! Training for codes inspectors in KCMO
By Ami Freeberg, communications and outreach manager, Cultivate Kansas City
A few times each season, leaders in urban agriculture around the city receive calls from panicked growers saying, "The city codes inspectors just cited me for weeds in my yard. They aren't weeds, they are my vegetable garden! What do I do?"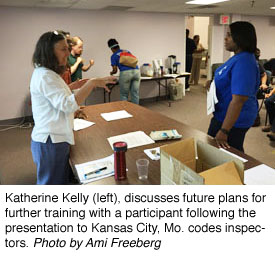 During a conversation earlier this summer, Katherine Kelly, executive director of Cultivate Kansas City, Dina Newman, health initiatives manager with Ivanhoe Neighborhood Council, and Kimiko Gilmore, assistant city manager of Kansas City, Mo., realized they were all hearing similar stories. At Gilmore's suggestion, Kelly and Newman developed a training for Kansas City, Mo. codes inspectors to help them more easily distinguish food cultivation from untended weeds.
The trend toward urban agriculture has taken root in Kansas City as it has spread across the country. Nationwide, one in three households today are growing food, which is the highest overall participation in food gardening in decades. The largest increase in food gardening was seen in urban areas, a 29 percent increase over five years from 2008 –2013, according to the National Gardening Association report. As food gardens and small farms are being re-introduced to the landscape of urban areas, some neighbors and codes inspectors, who didn't grow up around food gardens, are finding it a challenge to differentiate between an untended yard and a lush garden. 
Kansas City, Mo. has been fortunate to receive support for urban agriculture from city staff and elected officials. In 2010, the city passed an ordinance amending the zoning and development code to better address urban food production and agriculture-based business in city neighborhoods. With these revised codes as a backbone of support for urban agriculture, the time is ripe to better equip the people enforcing them on the ground with the necessary tools.
In August, Dalena Taylor, neighborhood preservation division manager of Neighborhoods and Housing Services, assisted with organizing the first ever training for codes inspectors – "Carrots and Basil and Beets, Oh My!" led by Kelly and Newman. They hope it will be the initial step toward educating the already keen eyes of inspectors to look for new patterns in the sea of green they often encounter.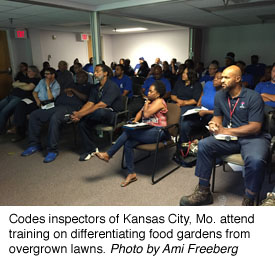 About 40 inspectors attended the training and were pleased to learn new things.
"I learned the various types of noxious weeds," one inspector said. "It's helpful to learn how to recognize a garden versus a lot covered with weeds."  
Others said it was interesting to learn that some commonly-recognized weeds, such as purslane or lambs quarters, may actually be cultivated by gardeners because they are edible.
 With so many new gardeners trying their hand at food production for the first time, some may get in over their head, Kelly said.
"Some new growers get excited and plant more than they can manage.  When August comes around, they may be overwhelmed and sometimes the weeds do get out of control," she said. "Over time gardeners learn what they can manage, so it is important to keep this learning curve in mind when evaluating what may appear to be an overgrown lawn."
The training covered the growth of urban agriculture nationwide, reviewed Kansas City's urban agriculture codes, identified characteristics of a vegetable garden or farm, and distinguished types of food crops as well as weeds by shape and size.
Inspectors were engaged throughout the presentation and suggested developing some sort of guide book that shows differences between all of the food plants that are easy to mistake for weeds. Others were excited to learn tips for their own gardens and plan to hone their skills during Newman's Grown in Ivanhoe gardening classes every second Tuesday.
"The encounter between codes inspectors and growers can often be tense. The grower is upset because they are doing something good by growing healthy food.  Yet the codes inspectors may see a whole mess of plants that they don't recognize," Kelly said. "We were really pleased to have such a meaningful conversation with the inspectors outside of that sometimes confrontational interaction. The inspectors deserve credit for the work they are doing to support neighborhood quality of life, and we saw a real interest in learning about fruits and vegetables."
It is evident this training was successful to introduce Kansas City's codes inspectors to better recognize food production as a legal and valuable use of land. One participant suggested that this course be taught at the beginning of every spring season – an indication that the culture of growing food in the city is truly taking root.
To schedule a training for codes inspectors or get assistance with a codes violation on your garden, please contact katherine[at]cultivatekc.org.