Cultivate Kansas City's Newsletter - September 2015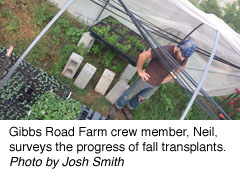 Field Notes from the Gibbs Road Farm
By Josh Smith, farm manager, Gibbs Road Farm
It's easy to forget that progress is the accumulation of small steps over time rather than one,  giant sudden leap.
Looking back on the farm this summer, I am excited to see so many "small" steps that seemed mundane at the time, but have put Gibbs Road Farm in a new position within a quarter.                   
The crew and I have worked hard to stay a step ahead of the land, anticipating the next season and its needs. And we are proud of how that allowed us to work more confidently and calmly through the summer. Despite the major roadblock of the greenhouse roof breaking, our fall plants were ready to be planted in the ground in late August, right on schedule. Anticipating this year's winter storage and sales needs, we're also planning for a new walk-in cooler and storage container, which should be in place by December.
Progress also has to be in harmony with nature, which is something that people often try to fight. As farmers, we have to listen to nature and the needs of our fields, accepting the ways that our expectations are not always met. This summer's excess rain resulted in slightly lower harvest yields. But we've started using landscape fabric to help control weeds, soil moisture, and seeding schedules. This allowed us to manage what nature provided this summer, and kept us feeling positive about the ways Gibbs Road Farm consistently maintains a solid, respectable harvest to feed our city on such a small, vulnerable piece of land.
Despite our tiny footprint, our impact on the community continues to grow.
Over the summer we benefitted from the hard work of two long-term interns who joined us to conduct University-sponsored research and experience personal and professional development.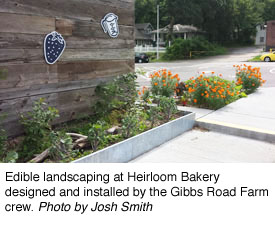 Additionally we're starting to leverage the multi-faceted talents of our volunteers, two of whom designed and built a root vegetable washer this summer. It's a relatively simple addition to our washstand area, but saves us nearly three hours of time each week. We've also collaborated with our produce customer, Heirloom Bakery and Hearth, to plant and maintain their cafe garden in Brookside, and are slowly but surely gaining more restaurant clients to secure our sales market as CSA tapers off for the winter.
One thing I love about farming with Cultivate Kansas City is the way that – as an organization – we're able to do so much more than I ever could as an independent farmer. Events like the Urban Grown Tour, which our staff worked countless hours to run, gave me a better appreciation for the way thaturban farming is an interdependent, citywide effort to make our food culture more environmentally and socially sustainable. We're really making progress in Kansas City's food culture, with the small steps we're all taking. And, in our small and relatively mundane ways, we are building something new and beautiful.