Cultivate Kansas City's Newsletter - September 2015
To Label, or Not to Label? An update on recent bills addressing GMO labeling
By Brooke Gutierrez, intern, Cultivate Kansas City
On July 25 the U.S. House of Representatives finally brought a long-standing debate around our dinner tables closer to law. A revised 2014 bill authored by Rep. Mike Pompeo, R-Kansas, known formally as The Safe and Accurate Food Labeling Act (HR 1599), passed the House  with a vote of 275 to 150.
The bill, if passed through the Senate and signed into law, would prevent any federal or state perseverance of mandatory labeling of foods made with genetically modified organisms (GMOs). Furthermore, the bill would also annul GMO labeling laws already in place, such as those in Vermont, Connecticut, and Maine. Although 64 countries around the world already require the labeling of GMOs with no reported increases in food costs, Pompeo and other bill supporters insist that strict labeling practices are unnecessary, "given that GMOs have been deemed safe by the Food and Drug Administration (FDA)" and that "forcing manufactures to create a label would drive up product costs." Pompeo also said the bill works to vacate state GMO labeling laws that could potentially lead to confusing standards for GMO labeling. The bill instead suggests that a voluntary labeling system be constructed, in which food developers would submit a pre-market notification indicating that the food is safely comparable to a non-GMO counterpart, which the FDA would then review for accuracy. ​
However, should the claim be found inaccurate, the FDA would require a specified label to inform consumers about the "material difference" in the product. Outside of this review, the bill suggests that companies could voluntarily label their products as containing GMOs, which is already allowed and not a practice chosen by any company.
While Pompeo and his many supporters, including entities such as the Grocery Manufacturers Association and Monsanto Company, feel that this bill is a step in the right direction for our food system, it appears that the large majority have their doubts. Vocal opponents of the legislation, including Rep. Jared Polis, D-Colorado, have suggested changing the bill's name to the "Denying Americans the Right-to-Know" (DARK) Act, as it serves merely to keep consumers from knowing what's in their food and prevent the FDA from pursuing a publically-desirable GMO-labeling solution. "More than 90 percent of Americans support labeling of GMO food," said Scott Faber, senior vice-president of government affairs for the Environmental Working Group (EWG) and executive director of Just Label It.
"It's clear the public wants to know what's in their food," he said. While this amendment was voted down, the bill's challengers have adopted the name as their own.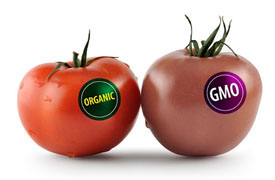 Aside from ignoring the desires of nine out of 10 Americans to label GMOs), opponents also insist the bill has many detrimental flaws. Those flaws include the bill's allowance of foods containing genetically engineered materials to be labeled as "natural," a detail that opponents believe will mislead and confuse consumers. Even more confusing is the expressed right of foods to be labeled as non-GMO even if it is produced with GMO-aids, enzymes, drugs, or GMO-fed animals. Many have also expressed doubt about the FDA's ability to take on the GMO-labeling duties due to its poor regulation tactics with other harmful ingredients, such as the nine-year trans-fat battle, the permitted use of antibiotics in animals, and the recent conflict with sugar labeling.
Furthermore, while a system will remain in place to allow foods to be certified as organic, the bill insists that labeling or advertising products without the use of genetic engineering as safer or of higher quality than products produced from, containing, or consisting of a genetically engineered plant is not necessary, a claim many consumers openly disagree with.
Many activists have expressed disappointment regarding the corporate involvement in the passage of the bill through the House. "Passage of this bill is an attempt by Monsanto and its agribusiness cronies to crush the democratic decision-making of tens of millions of Americans," said Andrew Kimbrell, founder and executive director of Center for Food Safety. "Corporate influence has won and the voice of the people has been ignored."
In a recent poll conducted by the Kansas City Star, many Kansas City residents expressed similar distaste towards the bill. In the poll of more than 400 people, 68 percent disagree strongly that labeling is unnecessary, due to GMOs being labeled as "generally safe." Furthermore, 79 percent strongly agree that suppressing GMO labeling is another "victory for Corporate America." While the bill passed the house, the real fight could be in the Senate.
The most important thing for Kansas City area residents to do now is take action. Here's what you can do to help:
1). Hold the House of Representatives accountable. All Kansas and Missouri representatives voted yes on HR1599.
2). Contact your senators. Before the companion bill is proposed, senators need to hear from you! Urge them to oppose HR1599, along with any other bills that would take away a state's right to require GMO labeling. You can find your senator's contact information here, or call the capitol switchboard at 202-224-3121.
3). Eat fresh and local food! Shop at local farmers' markets. Inquire about the practices with which your food is grown. When you can't buy things locally, look for labels such as non-GMO project verified or USDA Certified Organic.
4). Spread the word! Encourage friends and family to contact their members of Congress, and share the movement on social media.
5). Support GMO-labeling legislature, such as the Boxer-DeFazio Genetically Engineered Food Right-to-Know Act (HR 913).