Cultivate Kansas City's Newsletter - September 2015
Hope and Opportunities Grow Amid Healthy Food
By Alicia Ellingsworth, program manager, Juniper Gardens Training Farm
With lush, green crops in the middle of the oldest federal housing project in Kansas, our Juniper Gardens Training Farm stands as proof that where there is a will, there is a way. 
This year, 16 immigrant farmers are adapting to this climate and honing their skills as we work together to grow their personal farm businesses. Juniper Garden Training Farm's 10 acres provide a canvas for farmers in our New Roots for Refugees program to turn dirt into soil and hope into reality. Food grown by New Roots farmers can be found across the city at farmers markets, in restaurants, grocery stores and food pantries.
Launched in 2008, the New Roots for Refugees program is a partnership between Catholic Charities of Northeast Kansas and Cultivate Kansas City, who work together to provide a foundation for refugees to own and operate their own farms.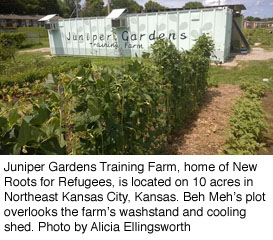 The program offers 30 annual workshops, English classes, farming technical assistance through one-on-one field walks and assistance to market. Additionally they assist in the recruitment of Community Supporter Agriculture (CSA) members, provide access to greenhouse space, washstand and cold storage, financial record-keeping and production planning training. The organizations also teach overall farm business management and new this year – are offering wholesaling and scaling-up opportunities.
In its eighth year, New Roots will graduate three farming couples. Two of these soon-to-be graduating farmers have already started farming independently on their own recently-purchased land.  They will join the program's other graduates who feed the city as they improve their lives, provide opportunities for their children and shape the fabric of our city. 
The first generation of graduates (Ki Ko Ko Farms, Karen Fresh and Mama Tu) are now well-established at major Kansas City farmers markets and are working to improve the facilities at their farms. They built two high tunnels over the summer at their farms with grants from the Natural Resources Conservation Services (NRCS) through the U.S. Department of Agriculture. With the high tunnels, our graduate farmers can extend their growing seasons and have more space for transplant production in the late winter in preparation for the growing seasons.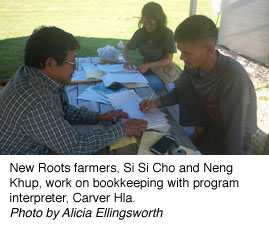 This year, the New Roots for Refugees program is expanding to include opportunities to provide its farmers new sales outlets and a new model of farm business. Having grown accustomed to farmers markets and CSA, New Roots farmers now move produce through wholesale outlets including local grocery stores, food pantries and restaurants. The system is brand new and working out kinks, but the New Roots for Refugees farmers are gaining a good understanding of this new sales opportunity.
Although prices are lower, wholesale markets are valuable in that large quantities of produce can be moved off a farm with very little additional work, which rounds out the farmers' ability to develop a sound business plan.
In addition to the opportunity to sell wholesale, the staff at Juniper has developed a scaling-up model that compliments wholesale production. Farmers who chose to scaling-up might begin growing fewer crops on larger amounts of land (we envision 5-20 acres) while maintaining the diversity of a sustainable farm. Hope lives in the most unlikely places and thrives at Juniper Gardens Training Farm as the New Roots for Refugees farmers work together to grow the city green. As we struggle together, we grow our interdependence. And as we learn together, we increase our power and the strength of the local food movement. Visit Juniper Gardens and see how beautiful it all really is.