Cultivate Kansas City's Newsletter - September 2015
Innovations for Urban Farmers: Leek transplant tool
By Jim Lammert, Cultivate Kansas City board member
In last month's newsletter we demonstrated how to build a drip irrigation spool and talked about how urban farmers can use a Do-It-Yourself (DIY) approach to build tools to enhance productivity and save some money versus purchasing new ones. In this article, I'm going to show you how to build a $20 leek transplant tool. Also, we're going to discuss resources to research a particular project to get ideas on how to design and build it.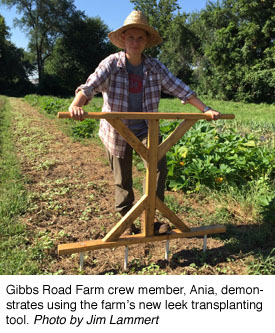 Leeks are vegetables known for their mild onion taste. They are typically grown from seed in a greenhouse and transplanted in the field, which is how the crew at the Gibbs Road Farm does it. The white portion of the stem is the most desirable part of the plant. To maximize this portion of the plant, leeks can be blanched by pushing soil around the plant, which can be labor intensive. Another option is to put the transplant deeper in the soil.
The Gibbs Road Farm crew requested a tool that would allow them to efficiently and accurately make 9-inch-deep holes across planting beds, with spacing between holes to be 12 inches. Since our beds are 4-feet-wide wide, we would need 4 holes made by the tool.
We decided to keep the tool simple so we used 2x3 studs, and ½-inch PVC pipe along with the appropriate screws to hold it together One or two people can use the tool at the same time We cut the end of the PVC pipes at a 45degree angle to make it easier to penetrate the soil. 
Click here for a description of materials and assembly required.
Now, let's discuss how to research for ideas on DIY projects you can make to improve efficiency on your farm.  There are many resources for learning how tools work, how to build them and ways to craft more sophisticated models for less money.  
Below are some helpful sites. Some are about tools and efficiency methods, some are about urban farming and others are just good research sites in general. Click the links below to start dreaming your own DIY farm improvement projects!
When in doubt, Google it!