Cultivate Kansas City's Newsletter - September 2015
Transitions with the Seasons
By Sarah Dehart Faltico, program manager, Beans&Greens
At Cultivate Kansas City, the idea of transitions and changing seasons often implies the various workloads on farms during the spring, summer, fall and winter. Spring brings new life as fields come alive and farmers emerge, busily prepping, seeding and getting the season underway. Summer arrives and with the sun at her highest angle the fields burst forth with delicious bounty. Mid-summer tasks toggle between endless harvesting and prepping for fall plantings. And as the days begin to tease us with the slightest notion of cooler temperatures, growers anticipate that moment to exhale, longing for the contemplative quiet and planning that winter brings.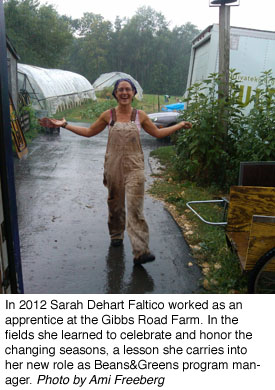 As the new program manager for the Beans&Greens program, I have stepped into this role during the peak of summer and marveled at how the same pace in the fields mirrors the pace of the Beans&Greens program itself. Markets are in full swing, the day-to-day program maintenance is equally brimming and the autumn task list grows. It's the time of the year when you just put your head down and work. So when that mid-August weather showed just the slightest sign of relenting, I immediately began to anticipate those cooler days when time frees enough to start reflecting on this season and planning for the next.
In addition to my transition into this new role, the Beans&Greens program shifted from being operated by our colleagues at Menorah Legacy Foundation to Cultivate Kansas City.
So as we begin to reflect on the 2015 season, we'll be looking not only at how the program performed and benefitted both low-income families and local farmers, but also at how we as an organization have assumed this new responsibility and how we'll guide it into the future. In just my first few weeks on the job, I am moved by the number of people and organizations that work so hard and so tirelessly to make this program a reality and a success. I have also already had the pleasure to meet and work with so many incredible people from all over the city that contribute to Kansas City's strength in amazing ways. And as we move through these seasons and into 2016, I am honored to take part in this process and excited to develop the strategic partnerships and collaborations that will continue to  build the Beans&Greens program, our local food systems and the communities we serve. 
We are excited to welcome Sarah Dehart Faltico back to the Cultivate Kansas City team in a new role as Beans&Greens program manager. Sarah developed a taste for good food as a child while working in her mother and grandmother's gardens, during family dinners every single night, and through her work in high-end restaurants. International travel developed her passion for real food as a fundamental human right. After living in Latin America, Sarah spent five years working in the pharmaceutical industry where she saw firsthand the disastrous physical, mental and emotional health consequences that can result when we have no connection to the food we eat.
That's when Sarah decided to change, so she quit the corporate gig and started farming. She spent two years as an apprentice at Gibbs Road Farm and a season learning no-till techniques at Urbavore Farm before tackling a project to grow food with at-risk teen girls on a nearby empty lot. Through this she learned the importance of helping more people get access to healthier food. This led Sarah back to Cultivate Kansas City as the Beans&Greens program manager where she works to increase access to fresh, healthy food for underserved populations while helping to support local farmers.