Newsletter of Cultivate Kansas City - April-May 2014
Changing the Way We Eat Together
By Hannah Hess, development director, Cultivate Kansas City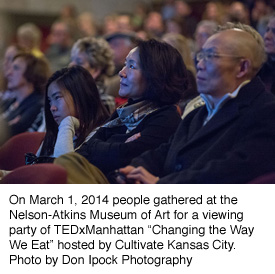 The internet makes it easy to be alone. It is also one of the best resources we have to connect to one another. In March, Kansas City connected with nearly every state and a handful of continents that were having official viewing parties to watch the live streaming of TEDxManhattan "Changing the Way We Eat."
More than 600 people in the greater Kansas City area reserved tickets to the free viewing party co-hosted by Cultivate Kansas City and the Nelson-Atkins Museum of Art. Why, on a cold March morning, would people desire to leave the coziness of home to watch internet videos in public instead of staying in their pajamas or favorite spot on the couch?
People are communal.
Wonderful advancements in technology often propel us into a new normal without pausing to evaluate what has been lost.
When televisions were first available, friends and families gathered together in Aunt Connie's living room every Sunday to watch their favorite program. As televisions became more affordable the weekly gathering with loved ones disappeared. Prior to air conditioning, folks sat on their shaded front porches. The overhead fan kept them cool while they watched children play and chatted with their neighbors who were doing the same. The conveniences of modern life do come with a cost.
The convenience of our modern food system is costing us our health and humanity.
Change is necessary.
And change is hard.
Fortunately, a lot of really smart people are working to help us make changes for the better. While giving the kick-off talk for TEDxManhattan, Peggy Neu, president of The Monday Campaigns, explained why and how Meatless Mondays became a global movement. It's quite simple. Most people's interest and ability to enact change is at the beginning of the week when a fresh start is perceived. And after an entire Saturday of listening to presentations on changing the way we eat" viewers looked forward to Monday when they could put their lessons into action.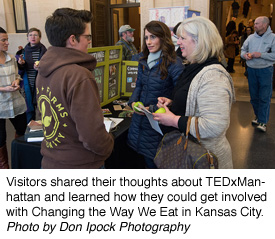 The TEDxManhattan talks inspired one viewer, a gym owner in the Kansas City area, to create a veggie exchange among her members who garden. She also had considered planting a garden outside the gym for a while and said she'll make it happen this year. Another attendee shared stories of how she incorporates healthy eating into her approach to holistic health care.
Throughout the day, participants of the TEDxManhattan forum were compelled to consider new solutions to the complex issues of our food system from issues of animal welfare (both for their sake and ours), to improving school lunches and eating crickets in order to address population growth.
For nearly 10 years, Cultivate Kansas City has been engaging the community in discussions about many of the same issues highlighted during the TEDxManhattan talks.
We are in constant pursuit of new solutions and have plenty of opportunities for you help. The solution is you.
Missed TEDxManhattan this year? Click here to watch them now.
Contact Hannah Hess - hannah[at]cultivatekc.org/