Newsletter of Cultivate Kansas City - April-May 2014
Creating Compost with Missouri Organic
By Lydia Gibson, project manager, Missouri Organic Recycling
At Missouri Organic Recycling our mission is to reduce the amount of food and yard waste sent to area landfills, and recycle the organic matter and nutrients back into our community through our Nature Wise Compost. Farm, to table, to compost, and back again to the farm.
Missouri Organic was founded in 1992 by the Anderson family. Dave Anderson, founder and owner, started out as a chimney sweep and saw Missouri's yard waste to landfill ban as an opportunity to sell firewood to his clients. Firewood expanded, to mulch products, which paved the way for composting. We began accepting food waste in 2004 through our award-winning program, Food Residuals Environmental Diversion, also known as FRED, with the support of the Missouri Department of Natural Resources and Mid-America Regional Council, Solid Waste Management District.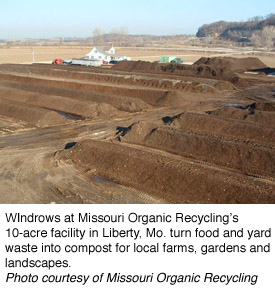 Every year we divert more than 32 million pounds, of food waste from area landfills, which is enough to cover 15 football fields a foot deep. Since 2008, we've diverted more than 150 million pounds of food waste alone. We combine this food waste with a portion of the more than 150,000 cubic yards of brush brought to our facilities to create 54 million pounds of compost annually.
Diverting green wastes from the landfills is an important part of our mission and business. In landfills, organic wastes decompose releasing methane, a powerful greenhouse gas contributing to climate change. By keeping organic waste out of the landfill we not only reduce the amount of methane released into the atmosphere, but also keep the valuable nutrients in food and plant matter in the nitrogen cycle. We do this by providing a cost competitive alternative to landfilling disposal for compostable waste streams.
Numerous FRED partners have reduced disposal costs through organics recycling. The price per ton to divert food and organic waste to a composting facility is usually much less than it is for conventional trash disposal in landfills or incinerators. For example, through composting, a company saves an average of $35 per ton on landfill fees.
A company may also reduce trash collection fees by 30 to 50 percent because trash dumpsters are picked up less frequently, or smaller dumpsters can be used at the same pick-up frequency. Fewer pickups and smaller collections result in money saved.
Once collected from area restaurants and businesses, compostable waste is hauled to our 10-acre facility located in Liberty, Mo. It is combined with finely ground yard wastes in long piles called windrows. The rows are mixed to contain approximately 70 percent yard waste and 30percent food waste that decomposes over a 10-12 week period. During this time, we manage the composting process by turning and watering to ensure optimal temperature and moisture which is carefully monitored and recorded. Once finished, we move the compost into curing piles to reach optimal maturity.
Compost is truly nature's way to sustainably grow and offers the following benefits:
• Improves the soil structure, porosity, and density, thus creating a better plant root environment
• Increases infiltration and permeability of heavy soils, thus reducing erosion and runoff
• Improves water holding capacity
• Supplies a variety of macro and micronutrients
• May control or suppress certain soil-borne plant pathogens
• Supplies significant quantities of organic matter
• Improves cation-exchange capacity (CEC) of soils and growing media, thus improving their ability to hold nutrients for plant use
• Supplies beneficial microorganisms to soils and growing media
• Improves and stabilizes soil pH
Can bind and degrade specific pollutants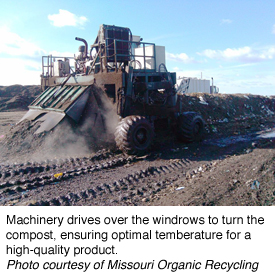 One of the most frequent questions we're asked is whether or not our compost is "organic"? The answer is no, it cannot be certified organic because of the wide range of sources for our food waste feedstocks. Nature Wise Compost, however, is consistently listed as an approved input in certified organic growing operations.
This is possible through our membership in the US Composting Council's Seal of Testing Assurance Program (STA) and Process to Further Reduce Pathogens or PFRP. Our composting process is the controlled, aerobic decomposition organic matter which produces a humus-like material. To meet PFRP standards using the windrow method, our piles must maintain a temperature of 131°F or higher and turned a minimum of five times. These temperatures effectively reduce or eliminate populations of human and plant pathogens as well as destroying noxious weed seeds and propagules.
Additionally, STA membership requires quarterly testing of our compost's physical, chemical, and biological characteristics. Tests are conducted at approved laboratories that have been certified as capable of performing these test methods specified by the program rules. Because of our process and testing we can ensure that Nature Wise compost is high quality, suitable for organic agricultural use, free of pesticides, herbicides, and pre-emergents.
To learn more and to start growing with Missouri Organic Contact us at (816) 483-0908 or visit us online at www.missouriorganic.com.