Newsletter of Cultivate Kansas City - April-May 2014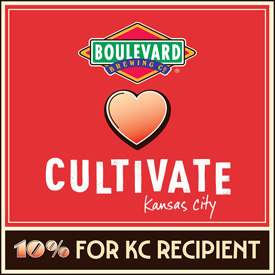 Cultivate Kansas City is excited and honored to be chosen as one of three recipients of Boulevard Brewing Company's 10% for KC program this quarter!
What does that mean for Cultivate KC?
As an organization dedicated to growing food, farms and community, we fundraise in order to provide resources and opportunities that enhance local farming in our community. More money for us = more local farmers = more local food = stronger local economy = more vibrant and healthy Kansas City!
What does that mean for you?
Go loco for local! Buying beer at the store? Sharing a pint at local bars or restaurant? Enjoying a cold one at the stadium? Through June 30, anytime you buy a KC Pils, 10% of the sales support Cultivate Kansas City! At the end of June, we'll compete with two other local non-profits to win the biggest slice of the pie from the spring KC Pils sales. The winning participants over the last year have received up to $16,000. Help us top that! The money we win will further our efforts to provide you with an abundance of quality, fresh, local food. It's what they call a win-win!
Want to help out? Here's what you can do!
1. Drink lots of KC Pils. Fresh local beer goes perfectly with fresh local veggies! It is a good thing spring time and farmers markets are here!
2. Help spread the word. Share our posts on Facebook, Twitter and Instagram. Tell your friends, family, co-workers and neighbors why you love and support Cultivate Kansas City over a cold brew and local meal.
3. Come drink KC Pils with us. We'll be hosting some fun events over the next three months, so stay tuned for details to get out and toast your local farmers.
4. Get out the vote. During the last 10 days of the quarter we'll need your help to make sure Cultivate Kansas City gets the most votes and earns 60% of the pool of money!
Drink up this spring to help Cultivate Kansas City grow food, farms and community for a healthy and vibrant local food system!