Newsletter of Cultivate Kansas City - April-May 2014
Field Notes
Alicia Ellingsworth, farm manager, Gibbs Road Farm
Spring! It's the most exciting time of year and on a farm, also the busiest with zillions of produce transplants sprouted from seed quickly outgrowing the greenhouse. Thousands will take root in the field at Gibbs Road Farm. Many more will find a home in backyard gardens across the city.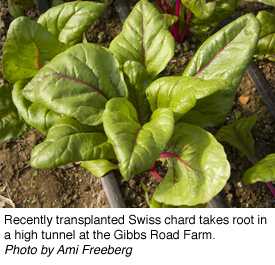 Onions are the first seeded in January and transplanted in March, along with potatoes by early April. After potatoes, it's definitely a free-for-all with everything ready to feel earth beneath their roots at once – kales, head lettuces, Swiss chard of all colors, cabbages, kohlrabi, fennel, collard greens, bok Choi. Then, as the soil warms up, tomatoes, eggplant, peppers, tomatillos and herbs will all find their space.
Order is something we attempt, but we only see glimpses of it. Life, exploding all over the farm, is often too much to even want to contain. Spring is a time of movement and constant change. One day last week as I stood on the greenhouse dock watering transplants and I knew I was standing on the verge of all potential. As water from the hose in my hand quenched spinach growing in flats for market, I glanced out into the field and could see newly sprouted spinach that would feed our Community Supported Agriculture (CSA) members in the coming weeks. Behind me, through the open greenhouse windows, I saw life rushing up to meet the sun, plants busting out of their soon-to-be-too-small allotment of soil mix and space. I felt the rush of energy. I was amid space and time colliding, spiraling and becoming life. I visualized the months ahead when all these seedlings would be mature, fruit and vegetable producing members of the farm.
Then, I noticed the snow – just a dusting from the night before melting away slowly in the sunlight and just enough to remind me to stop and breathe and enjoy the moment. Although I could see the potential, the snow reminded me it would all happen, all in good time, all in order.
Spring is a wonderful time of year. It is magical how hope returns. If you need to see it for yourself, the farm is open to you. Come see and listen. Come and be. Come and hope. Or do it on your soil. Just do it. It is time.
Contact Alicia Ellingsworth - alicia[at]cultivatekc.org