Newsletter of Cultivate Kansas City - April-May 2014
Missouri Legislature Considers Pilot "Beans&Greens" Program
By Katherine Kelly, executive director, Cultivate Kansas City
Missouri legislators have introduced legislation for a new pilot program that would match Supplemental Nutrition Assistance Program (SNAP, formerly known as food stamps) purchases at farmers' markets up to $10 per week. The match could be used to purchase fresh fruit, vegetables, meat, fish, poultry, eggs, and honey.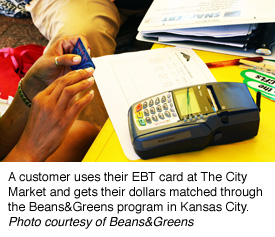 SNAP offers nutrition assistance to millions of eligible, low-income individuals and families and provides economic benefits to communities. It is the largest program in the domestic hunger safety net.
Kansas City metro has a SNAP matching program, the Beans&Greens program that was co-founded by Cultivate Kansas City and the Menorah Legacy Foundation. The program began in 2010, and, over the past four years, has provided $437,648 in matching funds for purchases using SNAP and Senior Farmers Market Nutrition Program coupons, driving an estimated $1.75 million to benefit the local economy.
"One of the trends we are most excited to see over the past couple of years is that low-income customers are choosing to spend more of their limited SNAP dollars than they are receiving in match at the farmers markets," said Gayla Brockman, Executive Director of the Menorah Legacy Foundation. "At the beginning of the Program, customers would charge $25 of their SNAP funds at the farmers markets to get the maximum match of $25. Now, we are now seeing that they will spend, say, $50 against their federal dollars plus the match of $25. This trend tells us that once people eat fresh food from a farmers market they realize they prefer the taste and appreciate the great bargain."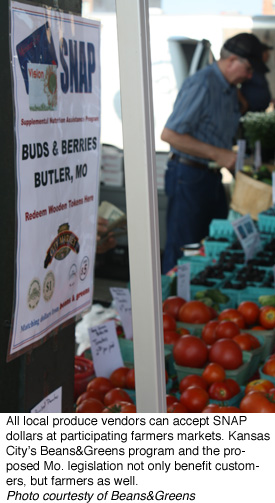 Patricia Miller, CEO of the Missouri State Alliance of YMCAs, was the initiator of the proposal for a state-wide pilot program. "The State Alliance, which is a relatively new initiative, was looking at ways to tackle childhood obesity through policy action," Miller said. "We heard about SNAP matches for fresh produce and it just made sense to us that this could be an effective way to promote healthy eating by low-income families."
The legislation has garnered bi-partisan support, with Rep. Jay Barnes (R), District 60, sponsoring the bill in the Missouri House of Representatives, and Sen. Brian Munzlinger (R), District 18, and Sen. Jason Holsman, (D), District 7, leading the senate support. Most recently, it was attached to another piece of legislation that would give state and local tax exemption to purchases made at Missouri farmers markets.
If the legislation is passed, the funds for the match will have to be appropriated and a process set up for administering the program and analyzing its impact. Missouri would be one of a handful of states dedicating state funds to a match program.
Contact Katherine Kelly – katherine[at]cultivatekc.org