Newsletter of Cultivate Kansas City - April-May 2014
A New CSA Model to Bridge the Gap
By Meredith Walrafen, program coordinator, New Roots for Refugees
Some people love the adventure of buying a Community Supported Agriculture (CSA) share and getting new, different vegetables every week to experiment with. For others who also enjoy the pleasures of seasonal eating but are a little less daring, a traditional CSA model might be a bit daunting.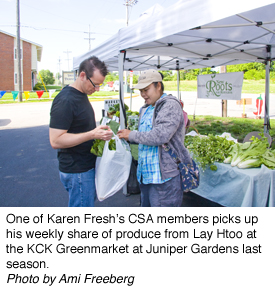 Many of the New Roots for Refugees CSA members buy from our program out of their passion for local food, a desire to eat healthier, to know their farmers, and support the local economy. These are the motivators that many of us in the local food movement are familiar with. However, some of the New Roots CSA members participate for another reason – the chance to connect with a refugee and help him or her begin a new life in the United States.
Working with refugee populations at Juniper Gardens Training Farm puts New Roots for Refugees in a unique position. Our work gives us the chance to bring people into the local food movement that maybe wouldn't be otherwise be involved, if it weren't for the refugee farmers.
At New Roots for Refugees, we're constantly working to bridge different gaps – between the cultures of our farmers and their customers, different language groups, and the various farming experiences that everyone brings to the training farm. When we sat down to evaluate our CSA program last November, we decided to apply that logic to our CSA model and try a different approach.
One of the most common suggestions we receive is that CSA members want more choices both in the type and amount of produce they receive. We spent time thinking about how we could make customers happier while maintaining the core principles of the CSA model, such as sharing risk, building relationships, and understanding the pleasures of regional and seasonal eating.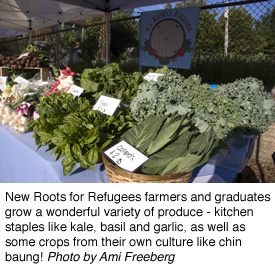 We've decided this year to try a market-style CSA. Instead of picking up a bag of pre-packed vegetables at the farmers' market each week like in years past, New Roots CSA Friends will be given a book of vouchers redeemable for produce. Each booklet will have 18 vouchers – one for each week of our season. Each voucher will have a number indicating how many items can be chosen that week, based on the size of share purchased at the beginning of the season. We will be selling full shares (7 items each week) for $300 and half shares (4 items each week) for $175.
As with most big changes, we're very excited and a little nervous about our new model.
We know that some people may be hesitant to embrace it, but if we want to expand the local food economy, we have to reach out to different customers. Sometimes we have to meet people where they're at, and for us at New Roots, that means giving our customers more choices than the traditional CSA model suggests. Our hope is that this change will cater both to the adventurous, veteran CSA members as well as those folks who would rather choose vegetables they know and love. It's a small change, but we hope that this market-style CSA model will encourage more people to join the New Roots for Refugees CSA, and engage with the local food movement.
If you're interested in purchasing a CSA with New Roots for Refugees, or with a graduate of the New Roots program, fill out the survey on our website, or contact Meredith Walrafen 913-906-8930 or mwalrafen@catholiccharitiesks.org