Newsletter of Cultivate Kansas City - April-May 2014
Why I Love Dr. Vandana Shiva
By Ami Freeberg, communications & outreach manager, Cultivate Kansas City
Dr. Vandana Shiva is one of the people I admire most in the world. She radiates with passion for making the world just and sustainable. She tirelessly takes on big, controversial issues – fighting Coca-Cola's theft and pollution of water from Indian villages or challenging Monsanto's dissemination of genetically modified crops to subsistence farmers throughout her country.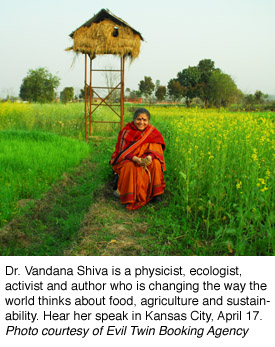 Dr. Shiva works on the ground to create alternative systems to global corporatization, as well as politically, educating and advocating to dismantle corporate control of India's resources.
Her words speak to my heart.
She so clearly and genuinely states the issues at hand, "In nature's economy the currency is not money, it is life." Dr. Shiva reminds us that all life begins with a seed, which is why the battle against GMOs and for saving heirloom seeds is at the heart of her work. An idea so fundamental, yet so easily forgotten with promises of disease resistance and higher yields to feed the world.
As a high school student, I had the opportunity to participate in the World Food Prize Symposium as part of the Iowa Youth Institute. I joined a few dozen of my peers from around the state to "become student leaders in the global fight against hunger!" The theme that year was rice. The staple food in more than 30 countries, rice provides one-fifth of the world's dietary energy; by contrast, wheat supplies 19 percent and maize, 5 percent.
We each researched a topic related to the theme and wrote about how to solve key global challenges. At the end of the conference, we presented our ideas in a small group including other students and a few experts in the field. Unlike most of my peers, I had been raised to value cultural and ecological diversity in life and to appreciate the good, fresh, organic food my mom fed me out of the garden. Given this upbringing, I chose to write about preserving the biodiversity of rice in India as a solution to the global challenge of hunger. At the time, I did not realize that The World Food Prize was founded by Norman Borlaug, the father of the Green Revolution, which introduced industrial agriculture to India and other developing countries.
After sharing my research, which featured Dr. Shiva's work, one of the experts in my group, a man from RiceTec, Inc., turned to me with a thick southern drawl and said, "Ami, I wish I could take you to Burma with me and show you all of the starving children. We need genetically modified crops to feed them, not the bio diverse crops that you talk about."
I remember that moment like it was yesterday. Mr. RiceTec's comments had the opposite effect than he was hoping for. My belief that biodiversity and sustainable agriculture are at the heart of the solution to feed the world has only deepened.
As a student at Grinnell College, I earned my degree in sociology and global development studies. I took every opportunity I could to incorporate my passion for food and sustainability into my studies. My global development classes offered opportunities to further explore Dr. Shiva's work. In one class we did a case study of a dam development project in India, during which we role-played the various parties. I represented the local community members who were displaced by the dam. Dr. Shiva was a strong ally and advocate in this case study, and for hundreds of thousands of Indians who have battled devastation of the resources they have depended on for survival over centuries.
On the deepest level, Dr. Shiva believes in a fundamental unity and interconnectedness of everything and everyone. She believes that understanding and acting within this paradigm will help us move toward repairing our relationship with the earth, with seed, with all of humanity and with life itself.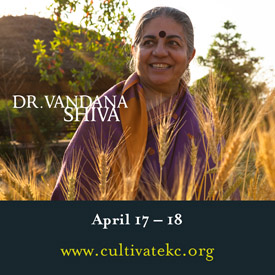 In the book "Manifestos on the Future of Food & Seed" Dr. Shiva wrote, "In India we deeply believe that this amazing universe, this amazing planet, this amazing earth is connected through the web of food, the web of life. Food – everything is food, and everything that eats that food is someone else's food. That's what connects us. We are food: we eat food, we are made of food, and our first identity, our first wealth, our first health comes from the making, creating and giving of good food. In India we have an Upanishad that says, 'If you give bad food you sin.' The highest karma is the production of food in abundance and the giving of good food in generosity."
I share this belief. And I am excited and honored to have the opportunity to host Dr. Shiva to share her wisdom and experience with Kansas City and the region.
Please join us to hear her speak on "Cultivating Diversity, Freedom and Hope" 7 p.m. on Thursday, April 17 at Unity Temple on the Plaza. Major Harvest Sponsor, Chipotle Mexican Grill, will host a free reception for all attendees at 5:30 p.m. in the lower level of Unity Temple. Event details and tickets can be found here. Thank you to all of the event hosts, sponsors and community partners who are making Dr. Shiva's visit possible!