An Ever Evolving Farm Tour
By Janet Brown Moss
Janet Brown Moss has been the primary organizer for what has evolved into the Urban Grown Farms and Gardens Tour event since 2007. Her vision, passion, and phenomenal networking and organizing skills helped grow the farm tour and the urban agriculture movement. Starting in 2015, the farm tour will become an annual event, staffed in-house, and we want to recognize and thank Janet for the amazing work she's done to bring the farm tour where it is today. Below, Janet shares her experience with the tour over the years.
Dear friends and farmers,
The first farm tour was held on July 17, 2005 – my 62nd birthday. I claimed it as a wonderful present to myself. I completely fell in love with the farmers. And I visited three of the six farms with my first grandchild, Brayden Tuttle, and the love of my life, Joel Wakham, whom I married, by coincidence, on June 21, this year – the off-year weekend of the farm tour.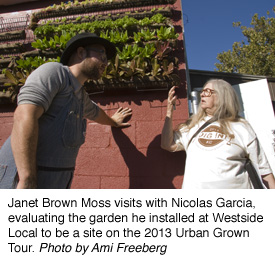 In 2007, the tour was moved to late June, and a pre-birthday present landed in my lap. Joel and I volunteered to coordinate the tour that year and began to set in place systems that evolved to support the growth of the tour. We organized the biennial tours as consultants then, helping in 2009, expand the performance and education events to create ten full days of urban agriculture activities.
With the planning of 2013 Urban Grown Farms and Garden Tour, I was able to focus on my favorite piece of tour work, which is supporting and communicating with the farmers on the tour. Ami Freeberg, communications and outreach manager at Cultivate Kansas City, took on the coordination of what had grown to include 60 farms and gardens and even more programming and activities. The sheer size and overwhelming success of the tour impressed upon us all that we needed to make the tour an annual event and make some other changes to serve the expanding interest in urban agriculture and food production.
In closing, I want to speak directly to the farmers who have so deeply shaped me over the last years!
Dear, dear farmers, you have been a part of my fun, social and work circle now for eight years and you have all enriched and inspired my life. Each time I have interacted with you, I conjure images and memories of mamma and daddy share cropping the 80 acres and working the large garden that fed our family healthy food, fresh and preserved, without which we could not have afforded to nourish ourselves. You are each dear to my heart and have helped me be what I have become thus far in my life. Thank you for that and the many hours of work and inventiveness you exhibit to help all people eat food that feeds our bodies, minds and souls. Thank you also to Cultivate Kansas City for the opportunity of healthy growth and enjoyment this work has given to me. bye now. janet brown moss awaken