Broadmoor Bistro Breaks New Ground
By Katherine Kelly, executive director
Vision.
Flexibility.
Persistence.
Follow-through.
These are the qualities of successful entrepreneurs. You get an idea, you flesh it out, you do the work to start making it real, and then you adapt, persist, adapt again, and keep going.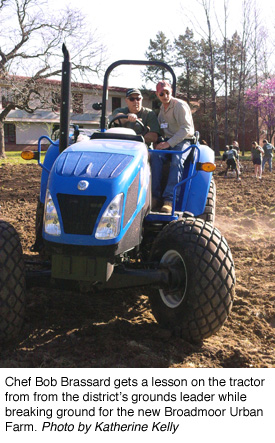 At the Broadmoor Technical Center, Head Chef Bob Brassard and Chef Justin Hoffman demonstrate those entrepreneurial qualities every day, working with culinary students at Broadmoor Bistro in the Shawnee Mission School District. They are training students how to be chefs, not only passing along cooking skills, but also solid business management and entrepreneurial skills.
And now, as part of a rapidly evolving industry, they're bringing a whole new dimension to the students' culinary training – urban agriculture and farming, which is adding new skill sets that will help them as they go out into the world to feed people.
In April, the school broke ground on the Broadmoor Urban Farm, which consists of about 11,000 square feet of soil turned, composted, and planted to grow food and train hundreds of students about where the food they cook with comes from.
Three months later, the farm is overflowing with dozens of varieties of tomato plants, lush carrots and beautiful beets, row after row of potatoes, and winter squash vines taking over the paths and some of the fencing. Because of compost from Missouri Organic and lots of straw, the field's production is ramping up quickly. Chefs Brassard and Hoffman are working with Sherri Harvel, Get Growing KC team member with Cultivate Kansas City, as they learn how to maximize production, keep pests and diseases under control, and harvest the crops at their peak of quality and taste.
Even though it's summertime, they've had students helping with the farm through a regular "Graduates Day" during which alumni of Broadmoor Bistro come out to help, continuing their education and mentorship informally by spending time with the chefs and learning more about local food as a growing (pun intended) aspect of the hospitality industry.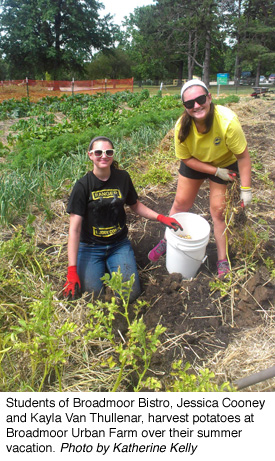 "I helped plant the tomatoes earlier and got to bring some of them home to my family when they ripened up. Just seeing their faces was great. You can make people so happy with your food," says India Borchardt, a culinary program graduate who is interning at the Hereford House and Pierpont's. "It makes me want to use more local and natural produce, they just improve the quality of your cooking."
Jenna Miller, also a graduate, says, until now, she never thought of farming as a job.
"Now, I see it as a job that is part of my industry because I've been working at the school farm and learning about growing, about harvesting, about everything that goes into growing these ingredients," she says.
The SMSD staff and board have been supportive of how the farm is adding new depth to its technical education program as well as growing food that students and community members will be eating.
Joan Leavens, a member of the SMSD Board of Education says, "We are excited to see students learning first-hand what is involved in food production, as well as what it means to be an entrepreneur. They are learning the full scope of food production and delivery, literally from farm to fork."
This experience translates into career skills in marketing and communications, as well as how to maximize nutrition and food safety," she says.
"I feel an amazing sense of pride in these vegetables! I take pictures of them, share them with people, I'm just so proud of them. I don't waste any bit of them – I'm not peeling them, I'm using the tops, I'm using every bit of them because I've been out here in the garden sweating, working hard, right alongside students and volunteers," Hoffman says. "I really know what this food is worth."
Brassard, the visionary driving this new urban farm, has big plans for the future. Whenever you talk with him, he bounces quickly from idea to idea – from what the farm is supplying for his menu to the expansion of the farm at the new administrative center; from to the possibility of supplying produce the school district's food service to the great partnership they've established with Houlihan's that is already buying tomatoes from the farm and co-marketing with the school district's culinary program.
"The partnerships around this farm – Cultivate Kansas City, Missouri Organic, Houlihan's, other chefs and other farmers and our vision for it are incredible," Brassard says. "These partnerships made this farm possible for our program and our students. Out in the field, we're teaching students about growing food. In the kitchen, they're learning that freezing the tomatoes we harvest this summer is going to bring down our winter food costs. At the Overland Park Farmer's Market and throughout the season, they're going to be learning about being on the other side of things, where we're selling the product, which is a valuable aspect for them to learn, too."
Of course, the fresh-from-the-farm and warm-from-the-sun-produce is inspiring the menu for the Broadmoor Bistro too.
"We're doing a dish we are calling 'One Potato, Two Potato…' because we've had such fun harvesting potatoes this summer," Brassard says "It will be a sampling of three different kinds of potatoes – first, a comfit of one variety of potatoes, then a sweet potato tempura, and then a ragout of wild mushrooms with another potato variety. We have so many varieties out here, so we get to play with a bit of this crop, a bit of that, which is really different than when we order product from others. We're also doing a Garden Gazpacho with Crab Cake (the only non-local ingredient on the menu) and a local Trout Nicoise Salad. It is going to be a great menu this fall."
The Broadmoor Bistro reopens Sept.10, with seatings between 5:30 p.m. and 7:15 p.m. on Wednesday nights. To learn more or make a reservation to go www.broadmoorbistro.smsd.org.
Broadmoor Bistro students will also be part of Dig In, KC!, a dinner with farmers and friends benefiting Cultivate Kansas City for the third year. Taste the fruits of their labor – both in the field and in the kitchen – with their farm-to-table appetizers. Dig In, KC! is Sunday, Sept. 21 in The City Market. Tickets available Aug. 11 at cultivatekc.org.