Field Notes: August - A New Beginning
By Alicia Ellingsworth, farm manager, Gibbs Road Farm
Although summer crops are in full production, August marks a new beginning on the farm. It's time to get late summer and fall crops in the ground. Don't stop planting your garden – we never stop.
At Gibbs Road Farm, we've pulled garlic and hung it to dry for two weeks before it's cleaned. The onions are hanging to dry and will be gathered up and stored in the lounge (our crew's lingo for the cool room). We have started digging some of the thousands of pounds of potatoes that will come out of the ground over the next few weeks. These events are opening up tremendous space! Of the farm's 62, 600-square foot beds: 10 are in a two-year fallow program; six are growing big, beautifully delicious heirloom tomatoes; five are in sweet potatoes; carrots grow in another five; beets live in four; summer squash, eggplant, peppers, summer greens, scallions and okra occupy ten or so beds and four bean beds are flowering and producing. Earlier in June we did a similar, but smaller bed switch over from spring veggies including lettuces, spinach, arugula and mustards and seeded our second succession plantings of roots and beans.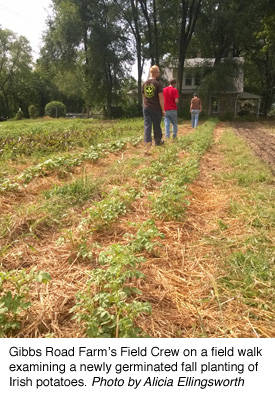 It's never too late to plant a seed.
August is the beginning of the rest of the year. Last week, we seeded fall potatoes. This week is all about beans and summer squash. We'll try some spinach in a wetter, shadier spot on the farm. Arugula does surprisingly well in warm weather. Carrots will grow in cool or warm weather and will taste even sweeter as the temperatures drop. Beets thrive in the cooler temperatures to come. There is time to plant buckwheat as a summer cover crop. It only needs thirty days from seed to flower. If you're looking to buy seed this week, be sure to notice number of days to harvest. Count backwards from Oct. 15, our traditional first frost date. Plant a seed, there is little risk. Let me know if you need a couple or are looking for fall transplants.
What opportunity!
We are one example of the new story.
The new story of possibility, of looking at the same challenge in a new way to find solutions to what we face in these times. The farm, while relatively small, is actually considered large for an urban farm. Gibbs Road Farm sits on three acres and is also home to Cultivate Kansas City's office, a greenhouse, three small orchards, storage buildings, parking spots, paths, walkways and even some wild spaces. When you take out all of these spaces, we have about one acre on which we consistently produce 25,000 pounds or so of USDA Certified organic veggies, fruit and herbs every year. We use the space well. We're good stewards of time and also good growers of muscle. We look at what we have, imagine what might be, then we get to work.
The one renewable resource we have in great supply at Gibbs Road Farm is hope. We learn from farming that hope and possibility bloom in the margins and the edges of time, space and energy. To open our eyes and hearts to a more beautiful world means we look to the margins and edges for inspiration and opportunity. We push the seasons from both ends, growing more and more vegetables during the months that were once thought of as unsuitable. We do it because we've got a lot of people to feed in this town and we aim to share our story with others. It's a good thing we have good soil. Hope grows here very well.