Food Deserts In Kansas City Leave Us Hungry For Change
By Madelyn Johnson, Urban Planning & Design Intern
My name is Madelyn Johnson and I am a senior at University of Missouri-Kansas City working as an urban planning intern for Cultivate Kansas City this summer. As a future planner, I believe non-profit organizations such as Cultivate Kansas City are helping us to reconnect with our cities in many different ways.
The work this kind of non-profit does is important on a city planning level because it is taking a process that has become so removed from daily life – food production – and bringing it closer to home. This work – growing food, farms and community for a healthy local food system – is paving the way for a sustainable Kansas City, Mo. and I feel privileged to be a part of it.
However, we're not quite where we need to be as a city with a local food system providing food for all Kansas Citians.
Living in Kansas City we have become so used to the idea of "across town" being 45 minutes of highway away driving from our current location. We joke about it as locals, but in all reality it is a huge problem in terms of accessibility and challenges us to be a great, more sustainable city.
Walkability is a key factor to sustainability. A walkable city means people are within walking distance (about a mile) to most necessary amenities and businesses. Walkscore.com ranks cities nationwide on their walkability. The higher the walking score, the more walkable a city is. For example, Chicago, which is the No. 6 most walkable city on Walkscore.com, has a walking score of 75. Kansas City's walking score is 32, which means that a car is necessary in order for most people to access basic amenities.
This becomes a problem when thinking in terms of the availability of fresh food. A small convenience store does not count as a good source of food. And the fact that some people have to drive more than 20 minutes away in order to get to a grocery store in a metropolitan area is not sustainable and does not make for a healthy environment.
The U.S. Department of Agriculture defines a food desert as urban neighborhoods and rural towns without ready access to fresh, healthy, and affordable food. Instead of supermarkets and grocery stores, these communities may have no food access or are served only by fast food restaurants and convenience stores that offer few healthy, affordable food options.
Unfortunately, Kansas City has many food deserts, which is one of the first issues we need to address as we work to become a more sustainable city.
During the spring semester of my junior year I was charged with studying a food desert in the area of 63rd Street, east of 71 Highway for my urban planning studio.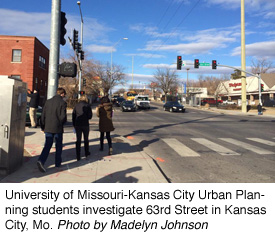 As the 63rd Street corridor stretches from wealthy parts of Kansas to the low-income areas east of Troost Avenue, it tells a story of long-time neglect. Based on calculations from the U.S. Bureau of Labor Statistics, it takes 5,500 people within a one-mile radius to support a grocery store in Kansas City. East 63rd Street contains numerous neighborhoods with considerably more residents than that, yet still there is no grocery store.
Yet there are many fast food restaurants.
As a society we have become obsessed with the convenience of things such as fast food. Because of this we are disconnected from where our food comes from and how to get it. Access to fresh produce will continue to be an issue as long as we maintain the thinking that convenience means a drive-through window and not a neighborhood grocery store that residents can walk to.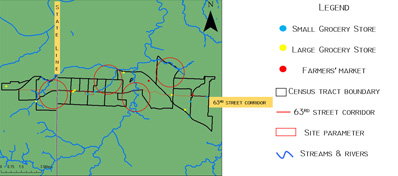 This map gives a closer look at the food deserts on 63rd Street. The large red circles show the areas that have enough people to support a grocery store, but no store within walking distance. Many of these areas are densely populated subdivisions with multi-family and single family homes, yet remain food deserts because food access has not been a priority in city planning.
We have all the tools to turn this into one giant success story, and it begins with each of us.
While studying planning, I have learned that people coming together and advocating for what they want as a community leads to accomplishments in their neighborhoods. Many people don't even realize they live in a food desert because they are so used to traveling for their groceries or doing without.
This is why education is so important. The more people know and understand the issue, the more engaged they will become to affect change – whether it's to advocate for a grocery store in their neighborhood or rallying at city hall for better planning and zoning policies.
When communities get together, they can start projects like neighborhood farmers markets and community gardens. These efforts can be amplified by other local organizations and resources. For example, Menorah Legacy Foundation and Cultivate Kansas City started the Beans&Greens program in Kansas City to match SNAP dollars spent at farmers markets. The program helps address the problem of food deserts and accessibility by helping low-income neighborhoods get the most out of their local farmers markets.
Driving far distances to get to grocery stores and eating at fast food restaurants do not have to be the only options. We can take steps to be a more sustainable city by becoming a voice for change and planning for walkable communities and accessible amenities.