Cultivate Kansas City Adopts the Beans&Greens Program
By Cara Harbstreet, dietetics intern
Cultivate Kansas City is pleased to announce the adoption of the Kansas City Beans&Greens program, beginning in 2015. The program has roots to 2009, when Katherine Kelly, executive director of Cultivate Kansas City (then The Kansas City Center for Urban Agriculture), approached, Gayla Brockman, executive director of the Menorah Legacy Foundation, with an idea for new program.
"Cultivate Kansas City has been our partner with Beans&Greens from the very beginning so it makes perfect sense for them to assume ownership," Brockman said. "In fact, it was Katherine who first informed me that farmers markets in other communities were offering nutrition incentives for people receiving food assistance. When I asked her if someone in Kansas City was providing matching funds at area markets she said 'No, but would YOU like to?' And so the Kansas City Beans&Greens program was born."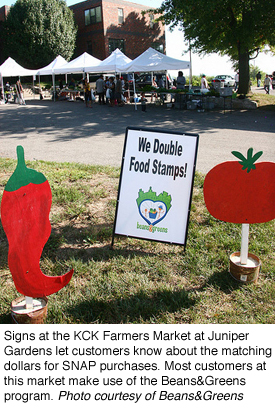 The program was modeled after an existing one called the Michigan Double Up Food Bucks that matches food assistance dollars with tokens to be spent at farmers markets.
In 2010, the Menorah Legacy Foundation launched Beans&Greens as a pilot program that has successfully grown in Kansas City.
Over the years, Kelly and other Menorah Legacy Foundation staff members shepherded the program, playing key roles on the management team, advisory committees and assisting with program development, outreach, and strategic planning.
Cultivate Kansas City has enjoyed being a part of and watching the program prosper and the organization now has systems in place to give it a permanent home. "I'm really happy that we've gotten to the point where Cultivate Kansas City can take this program on," Kelly says
Cultivate Kansas City's adoption of the program was made possible through strong partners that have helped integrate the program into communities in need.
"We love the program's impact on farmers," Kelly says. "We love that it is a way to bring low-income families into the healthy eating and local food movement and to help them change their diets while supporting local growers."
The Beans&Greens program supports healthy lifestyles and local agriculture in numerous ways. Customers are able to use assistance currency from the Supplemental Nutrition Assistance Program (SNAP) and Senior Farmers Market Nutrition Program (SFMNP) in Kansas to match their dollars at the market. Most markets provide a match of $25 per week and City Market provides a match of $15 per week. The SFMNP vouchers provide a $30 match over the course of the market season.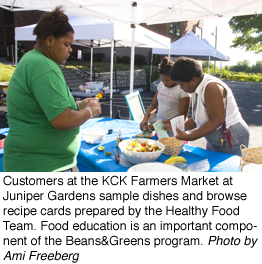 Without the match, customers say they have fewer options to access and purchase fresh produce. Customers feel empowered when they can provide healthy foods for their families, and the match provides a way to access foods that they may not be able to afford otherwise.
Beans&Greens also supports the farmers and vendors by opening another avenue for selling their products. SNAP beneficiaries can purchase produce, meat and poultry, eggs, breads, and many other items available at local markets. SNAP dollars may even be used to purchase seeds or plants to produce food for families receiving benefits. Many farmers include these items in their inventory to add value to their market booths, and that helps customers stretch their dollars even further. Farmers can also rely on Beans&Greens customers who consistently use the market to purchase produce and it can help them predict what they need to plant and harvest throughout the growing season.
Beans&Greens supports local farmers markets by drawing more customers to the market on a regular basis. While some of the larger markets have little difficulty attracting crowds in the warmer months, it can be more challenging for smaller markets to consistently entice shoppers to visit. Once customers know that a market provides the match through Beans&Greens, they are more likely to return. Markets can build upon this patronage season after season to grow their reputation and profits.
"Our mission as an organization has always been to promote the growing and the eating of healthy food in city neighborhoods," Kelly says. "This program does both very powerfully."
With the adoption of the program, Cultivate Kansas City will add to its growing staff. The nonprofit is seeking a program manager and grant writer to oversee the Beans&Greens program and to help with fundraising.
The 2014 season features 15 participating markets throughout Missouri and Kansas. Information about the market schedules and locations may be found online at the Beans&Greens website. Look for more exciting updates as Cultivate Kansas City continues the transition process in the coming months.