Cultivate Kansas City's Newsletter - December 2013-January 2014
Kansas City's urban agriculture community will gather for ninth Annual Farmers & Friends Meeting February 1, 2014
By Ami Freeberg, communications and outreach manager, Cultivate Kansas City
Join Cultivate Kansas City for our ninth Annual Farmers & Friends Meeting, a gathering that brings together our city's farming and food dreamers and doers. We share knowledge, we start conversations, we introduce the community's leaders to those who are just getting started, we dream about what a healthy food system for Kansas City could look like, and then we venture out to make it happen.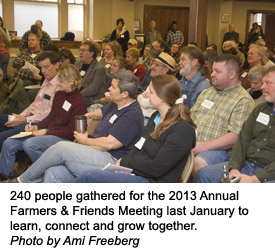 For several years attendees have asked for a longer meeting program. So, this year we're hosting a potluck lunch in addition to our famous pie potluck. Please bring a homemade (and preferably homegrown in some way) dish to share. Join us Feb. 1, from 9 a.m. – 3 p.m. at Second Presbyterian Church, 318 East 55th St., Kansas City, Mo. 64113. Click here to RSVP.
This year we're celebrating Food Democracy!
Food Democracy is a movement based on the principal that each of us has the right, responsibility and power to determine food policies and practices, locally and globally, that ensure all people have access to healthy and justly raised food. Food Democracy transforms each of us from a passive consumer into one who is actively engaged with our food system. The Annual Farmers & Friends Meeting is the perfect place to start connecting and engaging!
Our annual meeting began in 2006 to provide an opportunity for peer-to-peer learning among Kansas City's urban farmers. Fifteen urban farmers gathered at the first meeting to connect and dream.
Last year?
We had 240 farmers and friends come out – nearly double the attendance of the previous two years. This continued growth shows us the passion in our community to continue building a sustainable, healthy and just urban food system.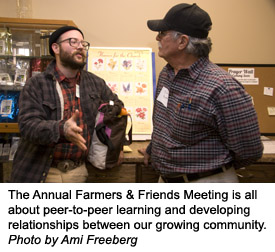 This year we will continue to showcase and recognize some of Kansas City's dreamers and doers with a presentation and panel discussion highlighting our community's innovative projects. The presentations will feature three growers who will share their work, goals, and challenges to inspire and motivate all of us to get engaged with our urban food system.
Following the panel, local leaders will host breakout discussions where you can network and learn together with Kansas City's urban agriculture community. Discussion topics will range from season extension techniques to permaculture principles, from engaging youth with urban agriculture to economic development for urban farmers and everything in between! With the extended meeting hours, we will host three rounds of discussions, each with eight to ten topics to choose from.
Last year we heard from three urban farmers, each of whom has made great strides over the past year, getting their hands dirty and working to cultivate change in our city. Here is an update:
Nicolas & Sarah Garcia had just purchased a greenhouse in Waldo when Nicolas shared their story at last year's meeting. They spent this year consolidating their various growing ventures under one roof, which is finally complete, and cleaning up the previously abandoned greenhouse. Their next step is building upon this foundation! Now, they are writing grants to finish their hugelkultur beds (raised garden beds built from buried wood), build chicken coops and runs, build rabbit hutches, install cisterns, and build cinder block beds.
Lay Htoo, a graduate of the New Roots for Refugees program, had just finished her first solo farming season. This year, she continued to grow her business, Karen Fresh, selling at the Overland Park Farmers Market and the KCK Greenmarket at Juniper Gardens. She dramatically increased her sales! She has planted asparagus, apple, cherry and pear trees and has put in several beds of strawberries to further diversify her offerings at market.
Theo Bunch, youth education specialist at Gillis Center, a non-profit supporting at-risk youth and families, has been working since early 2012 to create the Gillis Growth Grove. After spending the first year creating raised beds for the students to grow food, Theo and the youth of Gillis have been working hard with teachers and volunteers to build their dream farm and outdoor learning site.
With the help of the Giving Grove, Theo and his students put in an orchard of cherries, pears, apples, and peaches. They also spent several long days planting a prairie ecosystem. Prairies, raised beds, learning stations, and orchards are slowly taking shape at the Gills Growth Grove. The boys at Gillis Center invite you to visit the Gillis Growth Grove and let them show you their hard work.
Like each one of last year's dreamers and doers, I am sure that each of us has accomplished great things this year. We look forward to learning and growing together with you in 2014!
Reach Ami at ami[at]cultivatekc.org