Cultivate Kansas City's Newsletter - December 2013-January 2014
Resources and workshops and money, oh my!
Urban farmer resources for 2014
Teresa Kelly, Get Growing KC
Hey farmers and future farmers, it's time to start thinking about next year! Yes, already!
There are many resources to help you get started with your farm planning for 2014. From apprenticeships to hone your skills to free workshops and money…yes, I said money!
Grab a pencil and paper (laptop or tablet) and let's get growing your farm plans.
Are you growing food in a neighborhood that has challenged food access? Are you working on a food project that will reap good food for your community?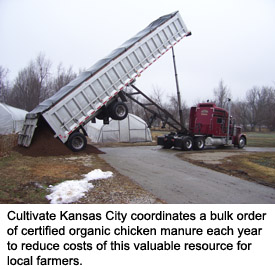 If so, check out the Get Growing KC mini-grants. Get Growing KC is a collaboration between Cultivate Kansas City, Kansas City Community Gardens & Lincoln University Cooperative Extension to get more people growing food through home & community gardening, urban farming, & community food projects with special emphasis on those with food access challenges. The Healthcare Foundation of Greater Kansas City has generously provided $40,000 for three grant rounds. Mini-grants are one-time grant opportunities for up to $3,000.
Details and grant application documents can be found here.
The Get Growing KC team also offers free technical assistance, presentations, and workshops on a variety of topics from business planning to farm marketing to production and water planning. Something new this year is the Get Growing KC water audit. All are offered free of charge to growers serving the mission to get good food growing in every neighborhood. To stay current on the Get Growing team's offerings you can follow on Facebook or the website.
Do you want to learn about farming through hands on experience? Consider an apprenticeship with Growing Growers. Growing Growers is the collaboration between K-State Research and Extension, University of Missouri Research and Extension, Lincoln University Cooperative Extension, the Kansas City Food Circle, Cultivate Kansas City and the Kansas Rural Center, providing educational opportunities to help new growers get started and established ones get better at what they do. The Growing Growers program extends through the full season, consisting of workshops, farm visits and a farm apprenticeship. And guess what? You can attend the monthly workshops even if you aren't in the apprenticeship program! Some of the workshops have a nominal fee, which is well worth the investment for your farm.
A valuable tool Growing Growers provides is the Growing Growers email listserv. Everyone is welcome to join for lively sharing of information, resources, class listings and tools (actual tools, as in plows and tractors). This is the go-to resource to connect with your local farming community. Find directions on how to subscribe and get more information about the apprenticeship program and workshops at the Growing Growers website.
Now, to the meat and potatoes of your farm…yes, I'm literally talking about potatoes. Cultivate Kansas City coordinates a bulk seed potato order each winter. Not only does it save you money, it offers you a great variety of certified organic and naturally grown varieties. Minimum order is 50 pounds and you pay shipping and handling on your order. The order takes place in early January. You can find details and order information on the Cultivate Kansas City website.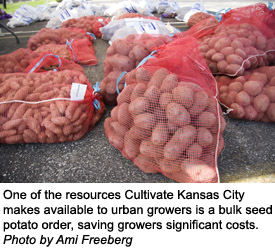 And what would make your potatoes and transplants and seeds and soil so, so happy?
Why organic chicken manure, of course! Cultivate Kansas City coordinates a bulk order of pelletized, OMRI listed and certified organic chicken manure fertilizer during the winter. Orders of one ton or greater are coordinated through Cultivate Kansas City. Kansas City Community Gardens (KCCG) offers smaller amounts to their members. For details visit KCCG's website.
And what is farming without some fun? Check out the Kansas City Food Circle's Eat Local & Organic Expos:
- Saturday, March 29 at Johnson County Community College in Overland Park, Kan.
- Saturday, April 12 at Metropolitan Community College Penn Valley in Kansas City, Mo.
Have your own farm, CSA, transplants or early produce? The expos provide one-stop connections to other farmers, consumers, and local organizations. Contact the Kansas City Food Circle for more information about the Expos and membership benefits.
Here's to a happy winter of abundant ideas, sweet slumber and practical planning! Remember the early bird gets the worm, so make your plans now for a successful and vibrant 2014 season.
Reach Teresa at teresa@cultivatekc.org