Cultivate Kansas City's Newsletter - December 2013-January 2014
Field Notes: Cultivate Kansas City's food forest begins to mature
Alicia Ellingsworth
About three miles west of Gibbs Road Farm on a quarter acre once used for annual vegetable production is where you will find Cultivate Kansas City's young food forest. Fruit and nut trees, berries and brambles, herbs and flowers are beginning to stretch, blossom and mature into a multi-story community of perennial food-producers.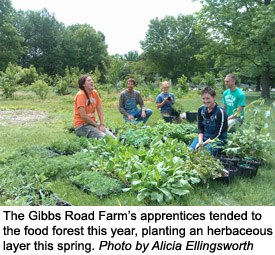 The food forest project was started in the fall of 2010, when Daniel Dermitzel, co-founder of Cultivate Kansas City began exploring the concepts of permaculture with the support of a grant from TogetherGreen, a nationwide program that supports projects engaging in diverse communities and finding innovative solutions to environmental challenges.
Permaculture is a design system for sustainability in all aspects of human endeavor, from growing food, to restoring landscapes and ecosystems, from building homes to building communities and much more.
On land owned by PJ Quell and Larry Davis, two Cultivate Kansas City friends and community partners, Daniel mapped the angle of the sun during different times of the day, installed three swales to prevent run-off and slowly percolate water. He then seeded clover cover crop.
There was much to do in the first few years. The trees were planted in the spring of 2011; berries and brambles joined in 2012 and this spring, a new crop of farm apprentices added the herbaceous layer. The first harvests were enjoyed this summer by Community Supported Agriculture (CSA) members, market customers, restaurants and at a wedding.
These small harvests included jujube fruit, peaches, pears and figs; raspberries, blackberries, blueberries, gogi and aronia berries; sage, thyme, peppermint, sorrel, oregano, lemon balm and rhubarb. Next year, we expect apples, and then paw paws, cherries, chestnuts, hazelnuts, elderberries, service berries and more in the years to come. The forest was not planted, however, for human consumption alone. Honeybees also benefit from the blossoms and birds share the space with an occasional deer. We know that a community of earthworms and fungi carry on their lives' work beneath the soil surface. This diverse, multi-story cooperation is a primary characteristic of permaculture.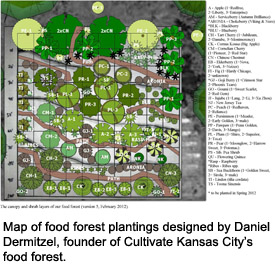 Last month, while the Gibbs Road Farm crew busily readied vegetable crops for the coming cold weather – securing high tunnels and installing row cover and low tunnels protect the vegetables from frost and wind – there was nothing to be done at the food forest. All was quiet. Nature took care of itself.
The perennials readied themselves. Leaves fell, allowing the wind to distribute them and provide a protective layer of warmth before breaking down and feeding the soil.
This is permaculture! You see, in a permanent system, individuals begin to know, rely upon and support each other over time. Put simply, within a healthy system, the individuals form community; each providing unique gifts to benefit everyone within the system.
You can feel this while walking through the food forest. The air is peaceful. There is no rush to tend to this job or that task. There are places to stop, reflect and gather spirit as creative energy circulates through the many branches.
Like most forests, this one has been inherited. We are asked to notice and to care for what is happening there. Its presence allows us to dream of touching the future. It encourages us to see other spaces around the city where such food forests might be planted. Perhaps, this young forest can expand our vision of the future growing up around us.
Reach Alicia at alicia[at]cultivatekc.org