Cultivate Kansas City's Newsletter - December 2013-January 2014
Urban Farms– Growing hope under fire
By Angela Greene
Angela Greene is an urban farmer in Kansas City, Kan. Since 2008, Angela has been working with youth in her community, teaching them about growing food while running her small farm business. Angela sells produce from the Salt of the Earth Youth Market Garden and Training Farm at various local farmers markets.
By now many urban farmers and gardeners have put their growing plots and fields to bed for the winter, planting garlic, onions, strawberries and anything else that will survive the cold temperatures. It's the time of year most of us are evaluating the past growing season, measuring our successes and failures and making our future plans.
I too am embroiled in the end of season wrap-up.
But this season was different for me.
On Sunday, Sept. 15 I was home grilling on my porch and tending to my family when I heard about 20 rounds of gunfire. Whatever was going on was extremely intense. Neighbors emerged to investigate. I went inside where I thought I'd be safer. Police sirens screeched north on 13th Street toward Quindaro Blvd., where I assumed the disturbance happened.
I was wrong.
Around 9 p.m. later that evening I received a call from a friend asking if I was okay.
"Well," I said. "As best that I know, why?" That's when I learned the shooting I heard was at my garden, two blocks from my home on the corner of 13th and Georgia streets. I quickly secured my family and rushed to see what happened.
I arrived at my garden to find a scene that looked like a television crime drama! Police and caution tape blocked the entire perimeter. Floodlights illuminated the scene as though it was daylight. Officers and detectives trampled through my rows of okra and tomatoes.
My stomach dropped at the sight of it all and I was horrified to learn that a young man had been shot from inside this place I love and then fell in an empty lot across the street. He later died at the hospital.
I was in the twilight zone!
I thought about the young victim. And I thought about how I probably would have been in the garden at the time of the shooting if I had not been needed at home. I thought about all of the kids and the adult volunteers that worked in the garden. I felt violated by the gunman's actions as though I myself was the victim of a home invasion. Mostly I wondered what I was going to do from that day forward.
As urban farmers, we are often occupied with issues like water access, city codes, busy-body neighbors, petty theft and weeds. Certainly we worry more about our crops than our safety and who could imagine being seriously injured or even killed while cultivating heirloom tomatoes?
The thing is, we've brought our farms to the urban core, which is a very different environment than our fellow rural farmers.
How do we adjust? How do we stay safe?
I do not have the answers to solving the issues of crime in the urban core.
As a resident, I see how poverty, deprivation of resources, the break-down of family, and the lack of education all play a role. As a person of faith, I see the decline of associations to churches, and like-minded organizations, the shortage of role models of good character, and warped sense of respect in this generation. Even with the picture appearing bleak, I believe there is hope.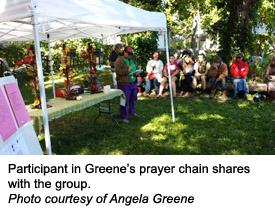 We held a prayer chain in October at my garden in response to the shooting. We passed out fliers inviting the neighbors to come out and take a stand against the violence plaguing our community. We prayed for the families of the victims of homicide and for our community.
We rededicated the garden grounds to their original purpose — to grow hope. The highlight of this gathering for me was having a lady who lives down the street and has never visited the garden walk to the event from her home. Mrs. Johnson is 95 years old.
We are still recovering from the season's events. My evaluation, so far, is that we will go forward. What that will actually look like is still forthcoming. But I have hope.
Reach Angela at greenemission2[at]gmail.com.