Cultivate Kansas City's Newsletter - December 2013-January 2014
Dr. Vandana Shiva brings food democracy message to Kansas City
Ami Freeberg, communications and outreach manager, Cultivate Kansas City
We are thrilled to announce that Dr. Vandana Shiva, an internationally recognized leader in food and sustainability issues, will join us in Kansas City for two days of learning and inspiration April 17 and 18, 2014. Her visit is co-hosted by Cultivate Kansas City and the University of Missouri-Kansas City.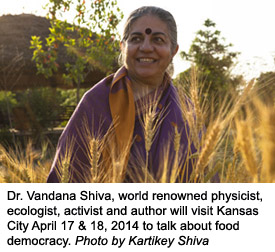 Dr. Shiva is one of the world's most dynamic and provocative thinkers on issues of sustainability, development and agriculture. A physicist, ecologist, activist, and author, she and her non-profit organization – Navdanya – are leading the global battle against the chemical breeding of seeds by large corporations for global food production.
Navdanya, which means nine seeds, represents India's nine crops that collectively provide a healthy, organic and secure food source. Since 1984, Navdanya has worked to conserve and preserve organic seeds and push back against modified seed patents.
The organization has established 111 community seed banks, trained more than 500,000 farmers in seed saving and sustainable agriculture, and has actively raised awareness about the hazards of genetic-engineering. The nonprofit continues to educate the public on the atrocities associated with biopiracy and works to protect biological and cultural diversity.
While Dr. Shiva's work is based in India, she is a global advocate and activist for seed freedom and food sovereignty. She truly embodies the phrase "think globally, act locally," and will bring to Kansas City her wealth of knowledge and experience from around the world to inspire action in our community.
In a recent interview with Yes! Magazine, Dr. Shiva was asked "How do we, the people, get strong enough to counter the enormous power of Monsanto and the like?" with emphasis on the importance of active engagement. Dr. Shiva said, "We are dealing with life itself, so the first place we get power is by aligning ourselves with the forces of life. That is why the act of seed saving is such an important political act in this time. And that is the part that is linked to self-organizing —organizing yourself to save the seeds, have a community garden, create an exchange, do everything that it takes to protect and rejuvenate the seed."
In essence, she said, the goal is to engage with your food system starting from the most fundamental level of food and life – the seed. This is where it all begins and where the momentum for food democracy is building nationwide.
Dr. Shiva's message of local ownership and self-sufficiency in the production and distribution of food offers a powerful case for the development of urban and local food systems that we've seen in Kansas City over the past ten years. Her deep understanding of sustainability challenges us to keep reaching across sectors, disciplines, and communities as we grow our regional food system.
During her keynote address, Dr. Shiva, who advocates the concept of food democracy, will delve deeper into the principal that we each have the right, responsibility and power to determine food policies and practices locally and globally, that ensure all people have access to affordable, healthy and culturally appropriate food. This responsibility transforms each of us from a passive consumer into one who is actively engaged with their food system.
Just as democracy returns power to the voting public, food democracy returns power to the eating public – every one of us. The parent who lobbies her child's school to serve more fresh foods raised locally is declaring food democracy. So is the chef who peppers her menu with the names of farmers who supplied the food; or the gardener who saves his seeds.
Professor Tim Lang at City University London's Centre for Food Policy defined the food democracy movement in the mid-1990s in response to increasing corporate control and lack of consumer participation in the food system. The movement emphasizes every person's right to safe, nutritious food that has been justly produced. It means ordinary people getting together to establish rules that encourage safeguarding the soil, water and wildlife we depend on.
In addition to the keynote address, you are invited to continue the conversation about food democracy with Dr. Shiva during a farm-to-table dinner at Johnson County Community College on Friday, April 18.
We are excited about the wealth of wisdom and experience from around the world that Dr. Vandana Shiva will bring to our community and region. We encourage you to learn more about her work with Navdanya, Seed Freedom, Slow Food and other organizations around the globe.