Cultivate Kansas City's Newsletter - December 2013-January 2014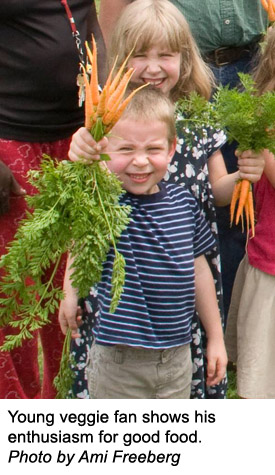 Abundance, Growth and Joy: A year in review
By Katherine Kelly, executive director, Cultivate Kansas City
This year has proven to be another one of extraordinary development in urban agriculture and urban food systems in Kansas City. Across the metro area, 2013 welcomed new land into production, the start of new food projects, initiatives and farm growth.
The Cultivate Kansas City staff worked with an ever-growing array of community leaders and visionaries, to help growers, activists and policy makers with everything from strategic planning and project development to farm start-up and farm management and production. As we end the year, we want to highlight just a few of those leaders, projects, and farms.
Juniper Gardens
It was a great year for the New Roots for Refugees farmers in the Juniper Gardens Training Farm's four-year program and its graduates. On nine acres, they grew an estimated 100,000 pounds of healthy, organically produced vegetables. They made record sales, a combined total of more than $160,000 of produce at 12 markets and through a 62-member Community Supported Agriculture program and other marketing channels. For the first time, one of the New Roots for Refugees farmers made more than $1,000 in a single day at market – a milestone in the life of any market farmer. Two of the farmers bought land to grow on; five are in the process of looking for land and hope to be farming independently in 2014.
Our hope at Cultivate Kansas City for the years to come is that these farmers, newly rooted in our community, become the families that supply food for Kansas Citians from 2014 to 2024 and decades beyond. Imagine your children and grandchildren, eating produce grown by the some of these farmers and their descendants!
Gibbs Road Farm
Lots of new things also happened this year at the Gibbs Road Farm, as it began a commitment to make the farm more sustainable in terms of soil conservation, human expectations and economic viability. The farm took 20 percent of the field out of production to begin a two-year fallow program that will give the soil a chance to rest and rebuild its nutrients. The program will rotate throughout the field over the years. Two volunteers planned and built a new washstand, which is more functional and comfortable for the field crew to work in. The Gibbs Road Farm produced approximately 28,000 pounds of certified-organic vegetables which were sold at the Brookside Farmers Market, the year-round 40 member CSA, and to several locally owned restaurants, earning about $130,000 in produce sales.
Urban Grown Farms & Gardens Tour
The fifth biennial Urban Grown Farms & Gardens Tour showcased 60 farms and gardens in the Kansas City metro area, making it the largest tour of its kind in the country. More than 2,000 people toured the sites over the weekend to experience how food is growing in our city. Keynote speaker Mark Bittman drew a crowd of 700 at one of many Urban Grown events. Other highlights included an Urban Grown kick off at the Kansas City Public Library, a BREAD! KC event that raised $1,175 for Sprout Community Garden, how-to workshops and more!
H20 to Grow Coalition
The H2O to Grow Coalition partnered with the Wyandotte County Health Department and the Public Works Department to help food growers in WyCo gain access to water. Grants for water connection were recommended for seven community gardens and urban farms in WyCo. In 2014, look for each of those sites to be producing more fruits and vegetables, managing their soils to prevent storm water run-off, and demonstrating good stewardship of irrigation water. This effort has inspired a similar initiative in Kansas City, Mo., where Water Services in 2014 will partner with city staff, elected officials and community organizations to set up a fund to support water access and good water management strategies on farms and gardens.
Community Partnerships
In Raytown, Advocates for Families partnered with the Raytown Main Street Association and individual community leaders and activists to start laying the ground work for a Raytown Farmers Market. With ambitious goals for vendors and healthy food education activities, we anticipate a lively and successful market in 2014.
Mattie Rhodes Center and Ivanhoe Neighborhood Council demonstrated the value of investing in healthy food production and access over multiple years. Both organizations set out ambitious goals for increasing food production and distribution in their respective communities and both have dedicated staff and leadership working to make those ambitions become reality. They've adapted their strategies intelligently as they've figured out what works on the ground. Their team has continued to focus on organizing a variety of ways to help people grow, distribute, access, and eat healthy produce. Their community and home gardeners have learned about selling produce to the non-gardeners in their community, and farmers markets continue to develop new ways to help people learn about healthy eating and supporting our local economy.
Research and Innovation
Urban farmers looked at the natural resources and the changing climate in Kansas City and thought creatively about how to work with both. Three farmers-in-progress in Kansas City, MO focused on the abundance of land with tree cover as growing sites, and they are looking into mushroom production where shade is a necessity. Bhutanese growers, who bring to the United States a love of edible fiddlehead ferns, planted ferns in the woods abutting their community gardens. Gerardo Martinez inspired a research project funded by a U.S. Department of Agriculture's Sustainable Agricultural Research and Education grant to grow nopales, an edible cactus, for their pads and fruit. Other growers look at empty buildings and see the potential for indoor fish production; hilly lots are becoming orchards; rooftops are sprouting peppers, tomatoes, and herbs.
As we bring this growing season to a close, we want to extend a heartfelt thanks to all the folks we were fortunate to work with in 2013. We are in the amazing position of being supporters, advocates, educators, learners, and connectors as we grow healthy food and a healthy food system together. This means that every day we are connected to people who give generously, work hard, care deeply, and think creatively – people who are profoundly committed to making the world a better place.
Thank you all for all that you do!