Newsletter of Cultivate Kansas City - February-March 2014
Dreaming, Doing and Connecting at the Annual Farmers & Friends Meeting
By Andrea Shores
More than 200 people braved icy roads and winter weather to participate in our 9th Annual Farmers & Friends Meeting Saturday, Feb. 1. Focused on Food Democracy, it was an energizing and empowering reminder that each of us has the right, responsibility and power to determine food policies and practices both locally and globally. The day was filled with dreamers and doers motivating attendees from passive consumers to folks who are actively engaged with their food system.
Their stories were amazing.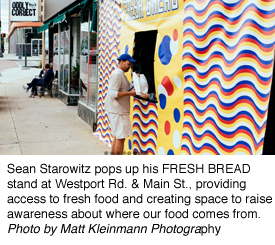 Disheartened by the fact that a pharmacy is the highest-grossing food store on the east side of Midtown Sean Starowitz, artist-in-residence at Farm to Market Bread Company, wanted to see a change. In an area where you are more likely to see Wonder Bread, Starowitz set up a pop-up storefront to sell freshly baked bread at affordable prices. Sean's engagement with the communities around him led to additional opportunities for his Fresh Bread pop-up to raise awareness about the lack of access to fresh, local food in areas across the city.
While visiting waiting rooms across the Midwest as a pharmaceutical representative, Sarah Dehart noticed a lack of connection between patients and their food.
While studying monkeys in rural Costa Rica, Jessi Bishopp noticed the same disconnect between the food, consumers and the environment.
These observations lead both Dehart and Bishopp to become partners and pursue work in sustainable agriculture, seeking to re-establish a connection with those things in their lives. They met in 2013 while working as apprentices at Urbavore Urban Farm. Following months of conversations in the field, together they formed Three Forks Farm to ensure people have access to healthy and justly-raised food. Though just in its beginning stages, Three Forks Farm is already making an impact in their neighborhood.
While looking for more land to add to their farm, Dehart and Bishopp discovered a perfect area next to their recently acquired lot. They met with the landowners who run Teen Challenge, a program that helps transform the lives of struggling adolescent girls. The partnership provides Three Forks Farm with land to grow on, while Dehart and Bishopp have the chance to provide hands-on education for the girls on growing and preparing food for their cafeteria.
As a long-time volunteer for Habitat for Humanity, Paul Grahovac helped build houses in the Quindaro area of Kansas City, Kansas. He felt a connection to the neighborhood and wanted to do more. Having grown up with parents who gardened, Grahovac saw an opportunity to put the neighborhood's vacant lots to use. He acquired a house and five vacant lots to create the Quindaro Gardens Mutual Aid Society. His son, John is now living in the house and helping with the garden.
Over the past few years, the neighbors have started getting involved. Ms. Veda Monday, a neighbor of the garden, is now helping to get more people involved. The Quindaro Gardens Mutual Aid Society not only feeds the neighborhood but educates the community on the cooking and preserving of various harvests.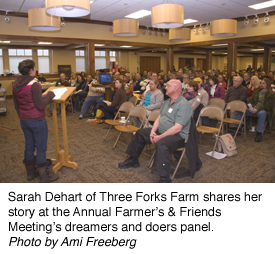 After hearing the dreamers and doers' stories, participants of the annual meeting met in a series of breakout sessions where community leaders taught everything from how to compost to the economics of urban farms. Participants chose from thirty topics covering a wide variety of issues from the basics of starting an urban farm to beekeeping in the city to food preservation techniques.
"The backyard chickens breakout session was fabulous. I've done some reading, but the leaders' first-hand experience went way beyond anything I've read," one attendee said
For others, the best part of the meeting is a chance to connect with people in the community who are passionate about changing the food system in Kansas City.
"There are so many others working in their own way toward the goal of making the Kansas City area more sustainable. We are not alone!" another attendee said.
At day's end I couldn't help but feel the air was light and filled with the energizing reminder that each of us is a seed. And that all of us hold the potential to grow, to transform and to nourish our communities.
When each of us engages with our food in some way – whether growing our own or shopping from an urban farmer or starting a farm business – we can grow food democracy in our city. When we work together, there is no limit to what can we grow!
Find Andrea on Twitter - @anbrsh9