Newsletter of Cultivate Kansas City - February-March 2014
Field Notes from the Gibbs Road Farm
By Alicia Ellingsworth, farm manager, Gibbs Road Farm
As more young farmers emerge with hope for the future, we remember where we came from and how hard we've worked to get here. Just as good food starts on good soil, on fertile land, this movement started with the tireless labor and collective wisdom of the trailblazers before us.
Recently, a group of Agrarian Elders, as they are called, came together for a conference at the Esalen Institute to document their past and discuss the future of sustainable farming. Two dozen pioneers of the organic farming movement in the U.S. and Canada spent a week sharing decades' worth of stories, knowledge and anxieties about the future.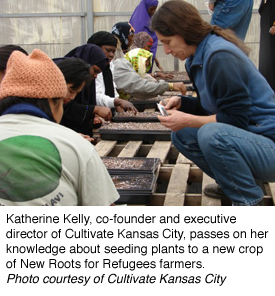 Their stories made me think about our own pioneers, our community's Agrarian Elders, and how they built this movement in Kansas City.
As each new apprentice and volunteer steps onto Gibbs Road Farm, I ask them to honor the dedication of those who built the farm. And I reassure them that what they do here also matters and that they, too, will be remembered. What we do today will without a doubt take us to a better tomorrow. But what the elders accomplished here before us has brought us to this place of understanding and skill, of patience and pushing all into balance.
At this auspicious time of convergence and growth, the history of each garden and farm plot and the farmers who worked the land builds the fertility of the present. I share stories of how Katherine Kelly, co-founder of Cultivate Kansas City, searched for land big enough to farm, but near enough to the city where opportunity for community, culture and markets existed. I retell stories of her chipping potatoes out of yet-to-be-improved soil. I recount how Daniel Dermitzel, co-founder of Cultivate Kansas City, mapped the Sun's path across the land of the to-be food forest and how he dug each of three swales there to capture, hold and release rainwater. These stories are absorbed by new eager growers.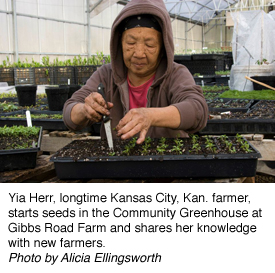 The Community Greenhouse at Gibbs Road Farm is a place of shared memories and wisdom. As Yia Herr, a Hmong farmer who has been farming in Kansas City, Kan. since 2005 and in her homeland for decades before that, brings lemongrass to restart for the year, she meets our new apprentices. She relates how she grows it and sometimes she shares a start or two. Mr. Joe Jennings, longtime farmer at J-14 Farm also in Kansas City, Kan., visits when he has a reason. Last spring the decades-seasoned grower traded his peach seedlings for our vegetable transplants. Standing at the back of his weathered pick-up truck, Jennings, with a no-nonsense approach, says each day he asks himself and others "who have you helped today?"
His question brings perspective. What we do, we do in community. Each time I see the row of peach trees now growing along the eastern border of the field, I'm reminded of his words and of him.
Earlier this month, we held our Annual Farmers & Friends Meeting on a chilly morning after an icy winter's night. Hundreds showed up. The weather tested the will of a new crop of Kansas City growers as it will continue to test them. Seasoned and novice growers shared ideas, wisdom and passion. As beginning farmers, knowing we are not the first proves that we can overcome the challenges of farming. As Agrarian Elders, knowing we are not alone comforts us as we pass the torch.
Kansas City is a vibrant urban agriculture community. Many opportunities exist to increase the skill of new farmers and gardeners. The Growing Growers Apprenticeship program, Get Growing KC, Rosedale Development Association, KC Community Gardens, university extension offices and many others offer workshops.
The sharing, though, doesn't have to be so formal. Each of us knows of a backyard gardener down the road from where we live. Now is the time to participate and to learn from those who have been quietly growing food for years. All we need to do is take time to listen.
Standing on the shoulders of the grandfather and with the guidance of the grandmother, we meet the future. Youth is needed to break new ground while history keeps us rooted. Our community of growers is richly diverse. We are grateful to those starting new farms today and to those who sowed the first seeds.
Contact Alicia - alicia[at]cultivatekc.org