Newsletter of Cultivate Kansas City - February-March 2014
Connecting the Dots of Food, Creativity and Innovation
By Hannah Hess, development director, Cultivate Kansas City
In January, the Cultivate Kansas City staff met with the Innovation Lab, an initiative of the Nelson-Atkins Museum of Art to engage and inspire new audiences. As we brainstormed an event that would appeal to farmers, foodies, and friends of art, my head and heart pulsed with excitement because I am an art historian turned healthy food advocate.
Connecting the dots between creativity and Cultivate Kansas City thrills my soul!
After working in the arts for a decade, I've realized that my infatuation with galleries and museums was actually a love of the creative process. Creativity in innovation, research, technology, the arts, and agriculture makes life better for everyone. Humans are creative by their very nature. But our creative capacity is fragile. Surges of creativity don't happen when we have a cold or food poisoning. We flourish when we feel our best.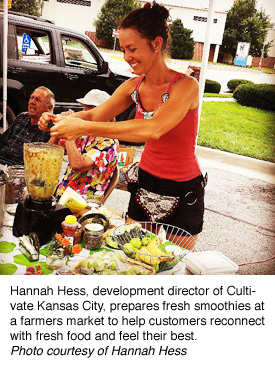 What helps us to feel our best? Good food of course! Super-foods need superheroes! So, I have set out to be a Wellness Warrior, promoting health for the sake of catalyzing creativity.
Cultivate Kansas City's promotion of a healthy local food system is fundamental to the vibrancy of our city. The food we eat directly impacts how we feel. How we feel impacts what we do. What we do impacts our family, friends, co-workers and community.
Food is so much more than eating. Our societal issues with food extend beyond the lack of it. Quality is equally important. Food drives help to address hunger, but when the majority of dry goods contain artificial, non-nourishing ingredients, we are given a false sense of addressing the issue. It's like putting ethanol into a diesel tank. The car might drive for a while but at some point, the warning lights come on, and the car either needs an expensive mechanic or is beyond repair.
At Cultivate Kansas City, we are working creatively in food systems to address issues of hunger, food democracy, environment stewardship and our local economy. I am inspired daily by my co-workers who remind me that we are all part of the solution.
We've attracted support from both local and national foundations and companies. We've forged partnerships that continue to evolve and prosper. Global companies like VML pay their employees to volunteer with us on their Foundation Day because our creative energies feed off one another.
Chipotle Mexican Grill is another incredible partner whose support of our work runs deeper than writing a check. They are continually seeking new and innovative ways to educate and engage people with better understanding their food system.
All of these companies recognize the same quality that drew me to Cultivate Kansas City – It's an organization that utilizes extreme creativity to find solutions to our most pressing societal problems. This is why I am privileged and an honored to join this incredible team of dreamers and doers as the new development director.
That team includes you!
Contact Hannah - hannah[at]cultivatekc.org