Newsletter of Cultivate Kansas City - February-March 2014
Good to Grow: Help for urban agriculture is available from the Kansas City Brownfields Program
By Andrew Bracker, Brownfields Coordinator, City of KCMO
For nearly as long as dwellings have stood where the Kaw and Missouri rivers meet, cultivation and gardening has been a part of life in Kansas City. Over the last century and a half, however, food production in the U.S. has become ever more centralized, processed and distributed over great distances. Kansas City, of course, has played a central role in that arc. More recently, as people begin to source more of their food locally, information is needed about sites for new gardens, orchards and farms in urban areas.
This article will explain potential health concerns when growing food in urban soil; best practices for safe gardening; how properties are investigated; and, how urban growers can access grant funds, incentives and technical resources through the Kansas City Brownfields Program.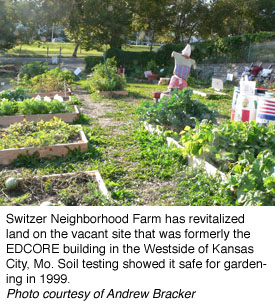 Every day in Kansas City, growers are planning and starting to use vacant or underutilized urban land for cultivation. Some of these properties – previously used for industrial and commercial purposes – are considered "brownfields" because they may have been contaminated or are perceived that way. Some examples are neighborhood filling stations, drycleaners, and even some vacant residential lots.
Lead and arsenic are naturally present in the soil, and at relatively higher levels in our region, according to the U.S. Geological Survey. Lead in urban areas however commonly comes from paint on older structures, buried fuel tanks, decades-old leaded gasoline emissions, and many other uses. Other common contaminants in urban soil include arsenic and chemicals used as pesticides; PAHs (Polycyclic Aromatic Hydrocarbons) from burning wood, coal or diesel; PCBs (Polychlorinated Biphenyls) from leaking transformers and electrical equipment; and oils, fuels and solvents from garages, filling stations, metal shops and drycleaners. Historic fill material placed in cities long ago can come from industrial processes (smelters, foundries, fly ash, etc.), dredge spoils, or demolition debris, and contain high levels of metals and other contaminants.
Government and university studies find that typical urban soil contaminants, even at relatively high concentrations, adhere strongly to soil particles and get taken up in produce at levels well below what is considered harmful. The uptake does, however, vary with the type of crops grown. Leafy vegetables take up little lead, while root and tuber crops (carrots, potatoes, beets, turnips) grab more and should be washed and peeled. Fortunately, the overall risk to the end consumer is very low if food is properly washed.
There is a greater potential risk to growers, especially children and women of child-bearing years, from inhaling or ingesting soil particles as they work in the gardens. Limiting exposure to lead, a potent neurotoxin, is especially important for young children. Thus, it is vital that gardens are well-designed and that all urban gardeners learn, and keep, good gardening practices. Government agencies, universities and non-profits generally agree on the following measures:
• Wear gloves and wash hands after gardening and before eating, and teach kids to do the same.
• Always supervise children, and consider separate play areas.
• Before consumption, wash all produce, peel root vegetables, and remove outer leaves of leafy greens.
• Keep garden footwear outside to avoid tracking soil indoors.
• Mulch bare soil to knock down dust and retain moisture.
• Add compost, topsoil and other soil amendments to reduce bioavailability.
• Deep digging and mixing of soils to dilute known isolated contaminants to surface soils.
• Grow in raised beds* with clean soil if contaminants are known or suspected.
*Remember to avoid older, pressure treated lumber (green-hued railroad ties, telephone poles, etc.) or creosote coated lumber when building raised beds. They can leach metals or other contaminants into the soil.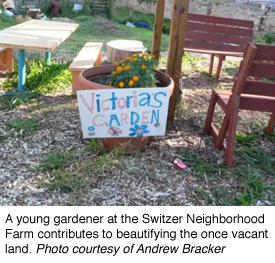 Growers are encouraged to test soils prior to building or expanding a garden, and look into past site uses or neighborhood knowledge of fill material or dumping activities.
Help is available through the Kansas City Brownfields program to perform environmental "due diligence." Through a grant from the U.S. Environmental Protection Agency (EPA), the City can fund a Phase I assessment. A Phase I report identifies environmental concerns through visiting the site, talking with owners and neighbors, and research into the historic land use, development, physical characteristics, and federal and state records about the property and its immediate vicinity. For instance, a Phase I report should tell you if the property ever had a registered fuel tank, was used for mining, or had a reported chemical spill.
A Phase I report can recommend further investigation of these concerns to see if contamination is actually present in the soil. The Kansas City Brownfields program can fund a limited Phase II assessment: sampling and laboratory analysis to determine the nature and extent of environmental impacts, if present. Results will be interpreted by environmental professionals and compared to standards considered safe for residential use and gardening. Technical assistance is also available from state and federal agencies.
Soils also can be analyzed for nutrients essential for cultivation, i.e., pH, organic matter, nitrogen, phosphorous, and potassium. Organizations like Cultivate Kansas City, KC Community Gardens, and extension programs of Kansas-State University, Missouri University, Lincoln University can help evaluate these factors from the grower's perspective. All of this information can help communities select the best urban land for gardening.
Currently, the Kansas City Brownfields Program has up to $65,000 available to fund urban agriculture sites, which is enough to perform about 10 Phase I and 5 limited Phase II assessments. The program is seeking local growers who need Phase I or II environmental assessments. Urban agriculture projects may include community gardens, small business farms, orchards, farmer's markets. It may also include investigation of new or existing structures (which may contain asbestos, lead paint and other hazards) for reuse involving greenhouses, hydroponics, aquaculture, food hub, or rooftop gardens.
Applicants should represent an organization or small business (not exclusively a home gardener), own or lease the intended site (or have a plan to do so), and demonstrate an ability to successfully start and sustain their project in the long-term. Experience with similar projects, commitments from partners, neighborhood engagement, and leveraged funding to meet projected capital and operating expenses are all highly recommended to demonstrate predicted success. Other helpful considerations include reusing vacant land, location in a food desert, and the use of water and soil conservation strategies.
Finally, the land cannot be currently owned by the federal government; the City of Kansas City, Mo; Jackson County, Mo; or the Land Clearance for Redevelopment Authority; and cannot be the subject of federal environmental investigation or enforcement. Other requirements may apply.
If the assessment identifies soil contamination, there are a range of proven remediation strategies, and additional brownfield resources to reduce exposure. These may involve simple methods such as adding compost, mulch, and constructing raised beds, to more involved projects to remove contaminated soil or add clean soil. The Brownfields Program can assist throughout this process.
Kansas City, MO also offers specific development code provisions to accommodate urban agriculture, maintains a large inventory of vacant parcels through the Kansas City Land Bank, and will soon be the first to create special urban agricultural zones (UAZs) under new Missouri legislation that offer tax incentives and reduced water rates to qualifying projects.
To learn more, or seek brownfield assistance for an urban agriculture project in Kansas City, please contact: Andrew Bracker, Brownfields Coordinator, Urban Redevelopment Division, City Planning and Development City of Kansas City, Mo.
Email: andrew.bracker@kcmo.org
Phone: 816-513-3002
References on Safe Gardening:
Brownfields and Urban Agriculture: Interim Guidelines for Safe Gardening Practices, EPA 2011 (http://www.epa.gov/brownfields/urbanag/pdf/bf_urban_ag.pdf)
Soil Contaminants and Best Practices for Healthy Gardens, Cornell Waste Management Institute (http://cwmi.css.cornell.edu/soilquality.htm)
Trace Elements and Urban Gardens, Donald R. Hodel and Andrew C. Chang, University of California, Cooperative Extension, Los Angeles County (http://celosangeles.ucanr.edu/Environmental_Horticulture/Trace_Elements_and_Urban_Gardens_568/)
Home Gardens and Lead, Arthur Craigmill and Ali Harivandi, 2010, University of California at Davis, (http://anrcatalog.ucdavis.edu)
Researchers Work to Ensure Safety of Urban Gardens, Kansas State University Research and Extension News, Ganga Hettiarachchi, (http://www.ksre.ksu.edu/news/story/urban_gardens042810.aspx)
United States Geological Survey (USGS), Mineral Resources On-Line Spatial Data (http://tin.er.usgs.gov/geochem/doc/averages/countydata.htm)
Attanayake, C. P., Hettiarachchi, G. M., Harms, A., Presley, D., Martin, S., Pierzynski, G.M., 2014: Field Evaluations on Soil Plant Transfer of Lead from an Urban Garden Soil. Journal of Environmental Quality, 43(1).
Brownfields and Urban Gardening (webpage), Kansas State University, Dept. of Agronomy (http://www.gardeningonbrownfields.org/p.aspx?tabid=1)