Newsletter of Cultivate Kansas City - February-March 2014
A New Year with New Roots
By Rayne Diggins, program manager, Juniper Gardens Training Farm
Changes abound at Juniper Gardens Training Farm this year. As the farm's new program manager, I bring with me new ideas, new visions, and a new way of looking at things from my experiences working with refugee farmers at a training farm in Iowa, as well as experience from operating my own farm.
I am excited to plant my own roots at Juniper Gardens and grow together with all of its farmers.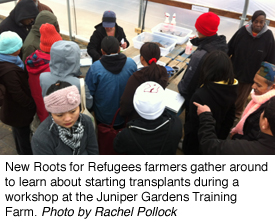 The New Roots for Refugees program, a partnership with Catholic Charities of Northeast Kansas, hosts refugees from many countries who have settled in Kansas City. They will spend the next four years at Juniper Gardens Training Farm learning how to become better farmers and building a sustainable livelihood. Many people in the United States probably don't really understand what being a refugee means or may have a misinformed definition.
'A refugee is someone who has been forced to flee his or her country in order to escape persecution, war, or violence. A refugee has a well-founded fear of persecution for reasons of race, religion, nationality, political opinion or membership in a particular social group. Most likely, they cannot return home or are afraid to do so. War and ethnic, tribal and religious violence are leading causes of refugees fleeing their countries.'
Military Dictatorship forced them from their homes and villages burning them to the ground, torturing the men, raping the women and burning children alive. Forced to flee, they traveled hundreds of miles on foot through treacherous mountains and severe weather seeking refuge in neighboring countries. Many lost their love ones along the way, including their children.
The refugees I've come to know are a peaceful and loving people. They are mothers, fathers, sisters, brothers, sons and daughters. They are farmers – they grow their own food in order to feed their families. They know what hard work is. They do what it takes to survive and to succeed. Growing food is their way of life. It is who they are. It is a part of them. It is all they know.
It is wonderful to have them here with us as they begin to rebuild their lives and put down new roots.
January marked the opening of the greenhouse with a workshop for all of the farmers to help them begin to start seeds of onions and scallions. It was truly amazing to witness and share in their excitement, enthusiasm and eagerness as they began to return to a way of life that they for so long feared had been lost forever. Smiling faces, dirty hands and enthusiastic conversation completely filled the greenhouse space.
It was a beautiful day!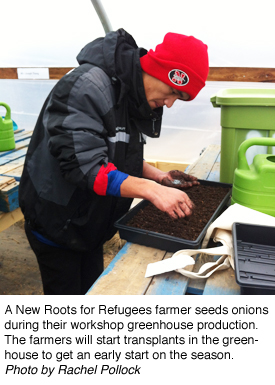 Who are these amazing people? Let me introduce you!
Khadka Regmi
Khadka grew up in Bhutan and fled his homeland to a refugee camp in Nepal. He brings a lifetime of vegetable growing experience to the farm. He is an Uncle to Tula, a farmer in his second year in our Training program. Khadka farmed in Bhutan and Nepal along the flat regions at the base of the mountains and sold his vegetables at the local markets.
"I hope to grow a variety of different kinds of vegetables, grow my business and earn enough money to buy my own house."
Sisi Cho
Sisi is from Burma and learned to grow vegetables by watching her parents. She farmed on a tiny plot inside the refugee camp where she grew up and sold her vegetables at a market inside the camp. She lives with her husband and 10-year-old daughter. They plan on helping her in the field and at market.
"My goal is to learn and after I complete the training program, buy my own land, continue growing and have a business."
Tu Rah
Tu Rah grew up as a farmer in Burma where he grew vegetables and rice on his 10-acre farm. His farm was set in the hills at the base of the mountains, so he needed to terrace his land in order to grow his crops. His only source of water was rain. He sold his vegetables to neighbors and at the local market. Tu Rah has been in the U. S. since 2009 and lives with his wife and four children.
"My goal is to complete the program and save money to buy some land and my own house."
Neng Khup
Neng Khup is from Chin state in Burma. He learned how to grow food from his parents and said he was in the gardens at a very small age. After fleeing his homeland to Malaysia, he worked in a restaurant helping to sell and deliver seafood. He lives very close to the Juniper Gardens Training Farm with his wife, two small sons and his brother-in-law. Neng Khup has big dreams for his farm business.
"I want to complete my four- year program and after that I can grow my own farm business and hire four or five people who can help me. I will sell at market and maybe out of my home."
Oma Dar
Oma Dar grew up in Burma and learned farming from her parents where they grew vegetables in a large garden. After fleeing her homeland to Thailand she ran her own restaurant/grocery store with her mother and husband. They made and served breads and curry noodles to their customers. Oma Dar has two years of growing experience in the U.S. and has set some great goals for her future farm business.
"My goal is to finish the training program and then find a way to buy my own land, grow my own vegetables and have my own business. I want to sell to wholesale customers and sell (export) my vegetables to other countries."
Mee Nge
Mee Nge with her husband Swa Dit had a two acre farm in Burma where they grew vegetables and raised cows and chickens. They ate most of what they grew, but also went door to door and sold excess to their neighbors. They have three children and have lived in the U.S. since 2008. Mee Nge has had a small garden for the past four seasons.
"Like the others, I want to complete the training program. If I am successful, I want to buy my own land and start my own farm business. I would like to sell at market and to grocery stores and restaurants."
Saje Dar & Ha Li Mar
Saje Dar & Ha Li Mar are from Burma. They have two years growing experience at Freeway Park Community Garden. They are sister-in-laws and plan on growing and selling together. Between the two of them, they have nine children.
I am honored to be spending my days with these amazing farmers helping them learn to grow food in a new land, with different seasons, different climates and new challenges. I am honored in helping them establish new roots in a new homeland and become an integral part of their new communities.
They each have their own stories to tell. Stories of sadness, stories of fear, stories of loss, stories of gratitude and stories of hope. No two of their stories are the same. I am grateful to be here with them, for the chance to get to know them, to learn about them and from them, and to listen…to their stories as they begin to create new ones.
Contact Rayne - rayne[at]cultivatekc.org