Newsletter of Cultivate Kansas City - February-March 2014
Wholesale Success for Kansas City
By Katherine Kelly, executive director, Cultivate Kansas City
As an organization, we are committed to helping grow our local food system and to helping farmers grow and sell good food. Over the past few years, we've seen our urban and peri-urban growers starting to engage in conversations about scaling up.
Can we grow larger farm businesses in cities that provide a solid living for the farmer? Can we become job creators and economic drivers for our communities? We've also seen the scaling up of rural farmers resulting in positive changes in our urban food system– more food is being grown nearby and moved into town through Community Supported Agriculture (CSA), farmers markets, restaurants and grocery stores. How can we support and engage with those farmers in our work to build the local food system? These conversations inspired us to work with Katie Nixon from Lincoln University Cooperative Extension and FamilyFarmed.org to organize a Wholesale Success workshop on March 12 for Kansas City and regional growers.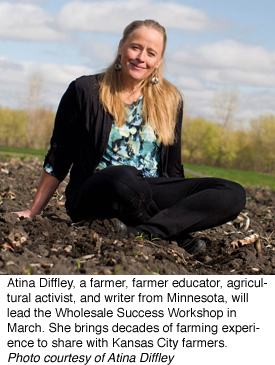 The workshop will be taught by Atina Diffley, a farmer, farmer educator, agricultural activist, and writer from Minnesota. Diffley got her farming chops on her family farm, Garden of Eagan, an organic farm she and her husband started in 1973. When they first began, there was no infrastructure and were no organic standards.
"We were figuring out organics and farming and markets all at the same time," she says. "We lived really frugally in the '70s and '80s! There were twenty years where we didn't make any money. It wasn't until the '90s that we were able to make a decent living."
The farm really took off after the passage of the National Organic Standards, Diffley said. "Before that, grocery stores and processors really had a hard time integrating local and organic into their systems. There were so many different certifiers and different standards that it made it really difficult for processing; for marketing." Passage of the standards drove the explosion of organic and local sales and opened up wholesale markets that previously were not available.
When they sold the Garden of Eagan label in 2008, the gross sales were $600,000 and they had grown into one of the largest organic farms in the Twin Cities area.
I asked Diffley about her thoughts on farmers starting to scale up into wholesaling. She quickly cited a study that was published in 2005, "Grower to grower: Creating a livelihood on a fresh market vegetable farm" by John Hendrikson, at the University of Wisconsin. The study followed 20 organic farms in the Midwest, looking at economy performance over three years.
"If local farming is going to be viable, if growers are going to make a living at it, you can make a lot of money in wholesale," Diffley advises. As we were talking, she pulled out the study and and shared the numbers they'd found for larger scale producers compared to the smaller scale producers. The growers working three or less acres earned about $4.96 per hour; the growers working 3-12 acres made $7.45 an hour; at 12 plus acres, the growers took home $11.36 an hour.
She encourages new farmers to think of the first four years of farming like college.
"You pay to go to college–you aren't losing money, you're getting an education." Growers should learn and develop their systems, build their relationships, keep it small and keep it lean. "Too much capital early on cripples a farm. It's too easy to focus on money solutions, rather than systems thinking and development."
And, when a grower is ready to scale up and do more capital investment in infrastructure, a business plan is key and having market commitments are key. "Shooting into a national market won't do it. You have to have your relationships. You have to have a quality of production. You have to have established a level of professionalism that works for the buyers."
Diffley's solid experience as a grower, her decades of observation of the organic and local food movement, and her travels across the country working with growers gives her a depth of knowledge and understanding that really gave me food for thought. The 12-acre plus farms where farmers start to take home more money are going to be relatively rare in our metro community, but new models are emerging that may have the potential to produce large amounts of food on a small footprint. I'm looking forward to her workshop and to the conversations that the day will encourage.
Workshop details and registration
Contact Katherine - katherine[at]cultivatekc.org