Dig In, KC! Stars Local Food and Urban Farmers
By Dianna Sinni, intern
Kansas City farming continues to grow into a vibrant and sustainable community, organically cultivating nourishing food, healthy consumer relationships and policy changes. The third annual Dig In, KC! A Dinner with Farmers and Friends celebrates the work of Cultivate Kansas City in support of local food, farms, and community to create a healthier food system.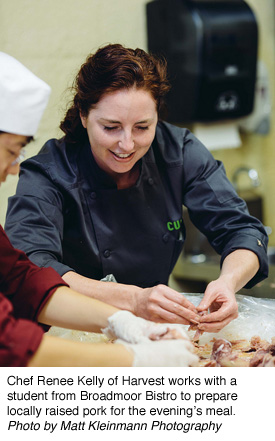 Mark your calendars! This year's event is Sunday, Sept. 21, in the City Market.
"Dig In, KC! is one of my favorite events in Kansas City. It creates a unique opportunity for our community to support our urban farmers," says Christine Wilson, one of the event co-chairs. "As the sun sets over City Market, we share a meal together as farmers, friends, and food lovers. Four amazing chefs, committed to sourcing locally, prepare a meal highlighting fresh ingredients from some of our city's urban farms. I love that the event is also a way to engage youth from the Broadmoor Bistro culinary program in cooking and learning more about our local food system."
Cultivate Kansas City's efforts improve the health, environment and economy of our city motivated Brenda Kumm, to get involved as a co-chair for Dig In, KC! this year.
"I am now more aware of seasonal options and always try to choose local first whether shopping for produce or dining out," she said in hopes that participants of the 2014 celebration are likewise inspired.
The evening kicks off with a cocktail hour, allowing guests to mingle with farmers and buy a variety of locally grown produce. A seated multi-course family style dinner follows.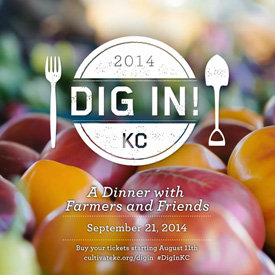 The menu features local and seasonal fare, designed through a creative collaboration among Kansas City's recognized farm-to-table chefs.
Three chefs return to the event for a third year: Michael Foust of The Farmhouse, Charles d'Ablaing of the Raphael Hotel, and Renee Kelly of Renee Kelly's Harvest. Culinary students from the Shawnee Mission School District's Broadmoor Bistro program also play an important role preparing and serving the appetizers and desserts for the event, as well as helping the chefs prepare dinner.
Chef Renee Kelly is honored part of Dig In, KC! "Dig In is truly the one event in Kansas City that starts with our farmers. From there stems and overwhelming sense of community and sustainability – all while having fun with great people," Kelly said.
Joining this year's Dig In, KC! culinary team is Chef Matt Arnold of Webster House.
"This is the perfect platform to bring attention to our local farmers in the Kansas City community. To come together with this type of partnership and enjoy farm-to-table food is very exciting." Arnold said. "It takes energy, communication, and knowledge to build on our local food systems. It's a must-do. I'm honored to be involved with such an event"
Ticket sales for the 2014 Dig In, KC! A Dinner with Farmers and Friends begin August 11th online at: cultivatekc.org. Interested in volunteering at the event? Contact ami@cultivatekc.org for more information.