Dr. Vandana Shiva Cultivates Seeds, Hope and Love in Kansas City
By Ami Freeberg, communications and outreach manager
In April, Cultivate Kansas City and the University of Missouri-Kansas City's Environmental Studies Program and Department of Architecture, Urban Planning and Design hosted the internationally renowned physicist, ecologist, activist and author, Dr. Vandana Shiva.
Dr. Shiva addressed a sold out crowd at Unity Temple on the Plaza – 1,255 people! People traveled from all over Kansas and Missouri to hear her speak, as well as from Iowa, Michigan, Nebraska and Ohio. She inspired, empowered and delighted the audience with her wisdom, passion, grit and wit, all while planting seeds in our community – seeds of knowledge, seeds of hope, seeds of courage, and seeds of love.
When Dr. Shiva stepped to the podium at Unity Temple, she pointed behind her to a stained-glass window with a starburst and the word "love." "That's it," she said. "Love. It is all about love. Love for the planet, love for all of the beings that are our earth community. Love for our fellow human beings in the remotest parts of the planet. And, the word 'cultivate' was once about love and is becoming again about love. It derives from cultivare, which is about fostering and cherishing. About creating the culture of caring and honoring the earth and ourselves, about tending and guarding and nurturing."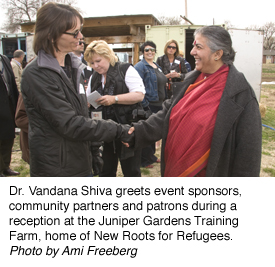 Over the last several decades, the act of cultivating has become disconnected from the root of its meaning as an industrial mindset has transformed agriculture. Farms have gotten bigger, less diverse and now require more chemicals to grow food. This fragmented and mechanistic paradigm has created an empire of man over nature. The final frontier of this empire is controlling life itself through seed. Realizing they could not take a patent on nature, a handful of companies started modifying seeds and taking out patents that are globally enforced. By making it a violation intellectual property rights to save seeds, these companies have created a system of total control by forcing farmers to depend on them for seeds.
The day Dr. Shiva first heard these companies' plans at a conference in 1987 is the day she started saving seeds.
"I knew nothing about saving seeds. But I am convinced at the end of many years, that when you love anything – a subject, a plant, a child – the knowledge comes with that love."
This is the root of "cultivate".
Today Dr. Shiva has built up Navdanya, a movement and network of more than 500,000 farmers across India that is saving seeds and growing diverse and culturally-based crops. Dr. Shiva believes that a farmer does not need seeds that are genetically modified to withstand drought, a farmer needs to grow a diverse array of crops to withstand the challenges of the changing climate.
"Never does a farmer with diversity have total failure," Dr. Shiva said.
Navdanya has started 110 community seed banks where farmers can get drought tolerant seeds when needed, or salt tolerant seeds after a tsunami. The seeds in the community seed banks have adapted naturally over time to withstand a variety of climate challenges.
"We need an intensification of diversity and an intensification of love and care, because at the end of the day that is what makes a seed grow into food," Dr. Shiva said.
When Cultivate Kansas City and our partners at UMKC began planning for Dr. Shiva's visit to Kansas City, we knew that we wanted to create space for more intimate conversations with her to take advantage of all that she has accomplished in the world and what she has learned along the way.
Our goal was to bring people together; people who are working to mobilize our community and create a vision for a better world. Dr. Shiva is someone who inspires people in India and around the world with her vision of sustainability, of justice, of food democracy. She spent much of her time in Kansas City sharing that vision, offering up her understanding of what food democracy looks like and what environmental, social, and economic justice demands of us.
She has also moved people to action to support that vision. She is an organizer. She has helped build movements. She has founded organizations. She has helped change old policies and craft new practices. She has done so in a powerfully integrative way while addressing food, the environment, globalization, poverty, social inequality. She has helped people bridge the differences of caste, of race, of power. She has mobilized people around the creation of an interconnected, interdependent human community.
We hosted a workshop to cultivate this integrated vision with a diverse mix of people and organizations, targeting the act of mobilizing, the act of creating food democracy, environmental democracy, community-based democracy.
"I think that we are at a time, a juncture in history, where we can perhaps push harder – offer bigger visions, more challenging analyses, ask our community members to more actively co-create a vision and a process with us. I think that, for all kinds of reasons, people in our region are ready to envision a different world and act to make that happen. Dr. Shiva is helping lead the way. The rest is up to us." Katherine Kelly, executive director and co-founder of Cultivate Kansas City told workshop participants.
Dr. Shiva said she recognizes the strategic location of Kansas City in the heart of industrial agriculture. She would like to visit again, and host a seed saving workshop.
Cultivate Kansas City will be working with many organizations and farmers to bring seeds more fully into the local food system in our region.
We will continue to cultivate – to tend, to care, to nurture – the seeds that Dr. Shiva planted in Cultivate Kansas City – seeds of knowledge, seeds of hope, seeds of courage and seeds of love. Join us, as we Cultivate Kansas City!