Field Notes from the Gibbs Road Farm
Alicia Ellingsworth, farm manager, Gibbs Road Farm
Last week the Gibbs Road Farm crew cleared winter crops out of High Tunnel #6, planted summer crops, then removed the tunnel's poly roof. Since January, we had harvested lots of spinach, some radishes and turnips, and many beets from under its cover to feed our Community Supported Agriculture (CSA) members during the early weeks of this season. Our high tunnels allow us to run a 42-week CSA program. They extend the growing season by keeping the air and soil warmer than unprotected bed space.
High tunnels are passive-solar greenhouses – they use no additional heat source, only capturing warmth from the sun. They are lovely spaces to work inside during the dark, winter months as snow is blowing and wind is howling outside. On a sunny winter day, temperatures in the tunnel can be warm enough to work in t-shirts.
The Gibbs Road Farm's first high tunnel went up in 1998; and in 2006, High Tunnel #6 was the last to be constructed. Many area farms now employ high tunnels of different sizes and designs, making food production possible here during what used to be the off-season. Thanks to these structures, fresh local food is available in more abundance than ever before.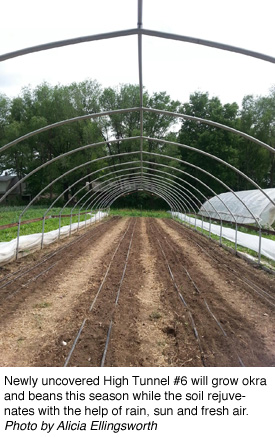 Soil in a high tunnel is in constant production mode. We feed it compost and mulch with straw, use drip irrigation and work it by hand all to protect and maintain its health. We keep an eye on its well-being by watching the vigor of the plants and testing the soil. But there isn't anything like rain and fresh air to nourish the soil. Now, with the roof off for the next season or two, the soil will receive water directly from above. We could feel the soil's deep breath of fresh air as the top came off. Okra and bush beans have been planted inside the tunnel's bare frame and we look forward to the tall stalks of okra pushing through the ribs that used to hold the roof.
Removing the roof of this tunnel is part of our sustainability plan. We've removed two older tunnels completely and also have 10 percent of our field fallow and in cover crops. The farm, established in 1997, is one of the oldest production farms still running in the city. During our time, we've shown how much food can be grown on very little land. Our total area is about three acres, but only one acre is in food production. On that one acre, we consistently produce over 25,000 pounds of vegetables and herbs. That's a lot especially when you consider we grow an awful lot of greens that are harvested leaf by leaf. But this city is hungry for local, organic food! We are thankful for the good work done by our soil and with the aid of the high tunnels.
What did we do with the two layers of poly we took off the tunnel's roof? We're experimenting with a new idea. As bindwind has become a problem on our farm and many others in the area, many look for ways to eradicate it. Tilling bindweed only encourages its growth. We have a nice patch of it just west of High Tunnel #6, so we laid the poly in four layers over this patch and secured it with anything we could find – extra lumber, cement blocks and metal poles. The idea that many folks are researching is solarization of the soil to burn the bindweed and hopefully stop its roots from spreading. We'll solarize the soil through the summer and report back in the fall, hopefully with a measure of success that will benefit others who share our bindweed challenge.
If you've been on the farm or even just driven past, High Tunnel #6 is the one furthest east; the one you first see from 42nd Street. Look for the bare ribs and watch the okra grow through. Take a drink of sunshine yourselves; know that each challenge we face can be met with hope and good work.