Newsletter of Cultivate Kansas City - June-July 2014
Design firms and urban planners in Kansas City have been in the forefront in realizing the benefits of urban agriculture integrated into the built environment. We asked Victoria Cherrie, a Cultivate Kansas City volunteer with a background in journalism, to check in with some of our design and planning partners to get their perspectives on the evolution of our urban food system.
A Growing Food System Whets the Appetite for Change
By Victoria Cherrie, volunteer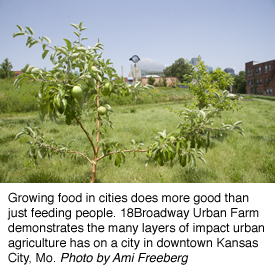 Kansas City is on the brink of major breakthroughs in urban agriculture as urban farms and community gardens continue to sprout up and old mindsets give way to new strategies for planning and growing our city through food.
"People are slowly beginning to realize that healthy food and healthy living is a new level of community vitality," said Bob Berkebile, principal at BNIM, the local architecture firm involved with revitalization plans for the old Bancroft School, Westport Middle and High schools. Each of these projects incorporates food to bolster the building of sustainable communities. "This movement is very real. It's happening."
Only about 15 percent of the world's food is grown in urban areas – in backyards, on rooftops, in vacant lots and parks. But there is a nationwide movement afoot to reclaim our local food systems that has taken root in the Kansas City area and is gaining traction in city halls.
Agriculture has long been segregated from cities' land use codes, which address residential, industrial and commercial projects.
"Now we are stepping back and seeing food as a system and food production on urban land," said Jake Wagner, associate professor of urban planning at University of Missouri-Kansas City and Cultivate Kansas City board member. "It's just a larger piece of how food interacts with the city."
The idea is that food touches commercial, retail, industrial and waste components of the city and therefore should be studied as a system to maximize its benefits, Wagner said.
This has long been tossed around in conversations and publications among planning officials but is starting to become more institutionalized as cities revise zoning codes, food production and planners become more specialized in these issues prompting more and more public debate.
On the ground
There are more than 50 registered urban farms on 100 plus acres and about 400 community and schoolyard gardens in the Kansas City area with more being established every year. These food sources are making a positive economic impact on Kansas City while transforming the city's landscape and providing healthy food options for the community.
Many urban farms are creating jobs, selling produce and paying sales and income taxes. Those offering workshops and events also are generating money being circulated locally. Last year, Cultivate Kansas City's Gibbs Road Farm, off Interstate 635 in Kansas City, Kan. grossed $130,000 in sales on its two-acre farm.
It's just one example of the many urban agriculture success stories unfolding in our area as advocates work through the often challenging process of integrating it into zoning codes and planning requirements.
That process will become easier as the health benefits and economic vitality of urban farming becomes more universally understood and accepted in the community.
Change takes patience
The process is going to take some time, Berkebile said.
Brooke Salvaggio and Dan Heryer, pioneers of Kansas City's urban farming movement, experienced this firsthand in 2009 when they started BADSEED, a 2.5 acre farm in south Kansas City. The farm thrived for several years until neighbors complained and attempted to shut it down, resulting in a year-long battle at city hall. The fight ended with an urban agriculture ordinance that protects urban farms. But it also shed light on the disjointed views surrounding the local food movement and the challenges of trying to build communities through food.
In this case change happened backwards. It started with a dispute that led the city to balance the interests of everyone involved to affect a solution. The ultimate goal is to not just adopt zoning changes when disputes pop up but rather to plan for to these issues and incorporate them into future plans the way more progressive cities such as Chicago and Portland are doing.
"There are always going to be people who would rather not see their produce being grown and its imperfections during the offseason," Berkebile said.
But he and other urban agriculture advocates agree there is much common ground to be gained in this effort.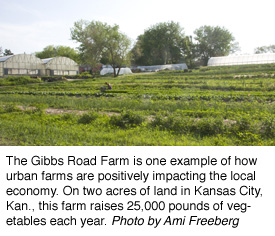 "It's going to take some really evolved people – green warriors of this movement – and all of us having a little more trust of others and each other," Berkebile said. "It hasn't always been cozy and it won't always be until we work through our fears and realize this is healthy for us and our city and it really and truly can be beautiful."
Getting people to come around is going to take some examples of what this would look like in our city, Berkebile said.
"Some community and urban gardens are really unkempt and that makes the change more difficult," he said. "But I think the community at large is ready for this and in some cases they don't know it."
Open minds grow beautiful cities
The mindset for change and incorporating urban agriculture into our city's future planning begins as much with the city leaders, architects and developers shaping the community as it does with residents themselves.
"Every project must be designed to increase social and economic vitality – there are no tradeoffs," Berkebile said.
He and others are seeing to it that city officials get out of the office to explore Kansas City's landscape dotted with food deserts and vacant land prime for urban agriculture to gain a better understanding of the need for more codes. City leaders are also being shown food forests, thriving urban farms and other real-life examples of sustainable projects that are already making a difference in the community.
"It's amazing how many things urban agriculture can be used for," said Chris DeVolder, an architect at 360, a local architecture firm. "It's not being used for as many as we'd like to see yet, but the fact that we are having these conversations and slowly working our way up to change is great."
In 2008, DeVolder's firm transformed a city block in the historic Crossroads Arts District into a rainwater-harvesting food garden that was initially designed to address some of the city's stormwater and wastewater treatment problems. "18Broadway" – powered by photovoltaic cells and a prototype wind turbine – grew into a garden that is nourished by rainwater that filters through a street-level, vegetation-filled drainage system into a 40,000 gallon underground tank. Fresh veggies harvested from the garden are donated to Kansas City food banks.
Located at 18th Street & Broadway Boulevard, this project was the first of its kind in the country to showcase how urban agriculture can feed many needs of a community when we open our minds to every possibility.
"Food engages every aspect of sustainability," DeVolder said. "From that everything can happen."