City of Kansas City, Mo. Wants You (to Grow, Process & Vend Local Food!)
By Katherine Kelly, executive director
Kansas City, Mo. is looking better and better as a place to grow and sell good, local food!
As part of an ongoing effort to encourage urban agriculture and local food businesses, the City Council recently passed an ordinance that will provide property tax breaks for businesses that produce, process, or vend local food within Urban Agriculture Zone (UAZ) eligible areas. This ordinance enacts a state statute passed in 2013 to develop UAZs in cities across Missouri.
Approved farm and food businesses could receive a discount on the property tax rates for up to 25 years, with the tax assessment to be frozen at the amount they were the year before the UAZ application.
There are three categories of UAZs:
1) Grower UAZ: where produce is grown; livestock intended for human consumption is raised, or value-added agricultural products are produced.
2) Processing UAZ: for small businesses that process livestock or poultry raised in Missouri or within 250 miles of the Processing UAZ for human consumption.
3) Vending UAZ: for retail operations able to accept Supplemental Nutrition Assistance Program payments (SNAP, formerly food stamps) and that sell no less than 75 percent locally grown produce, valued-added agricultural products, or meat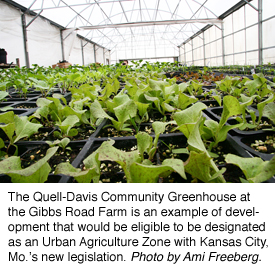 For someone who plans to make property improvements that will increase the real estate value, a UAZ designation could mean thousands of dollars or more in tax savings over the life of the UAZ, depending on the scale of improvements. The types of improvements that would make a project eligible to become a UAZ include:
• A newly constructed greenhouse on a formerly vacant lot that will be used for the production of edible crops and transplants (Grower UAZ)
• A blighted building that is rehabbed to produce and process tilapia (Grower UAZ)
• An underutilized building in a blighted neighborhood that is converted into a locally-grown food retail store (Vendor UAZ)
• A new building in a blighted neighborhood with facilities for processing locally grown food into value-added products (Grower UAZ, though there may be legislative action to broaden the definition of a Processing UAZ to include the processing of non-meat farm products)
• A new processing facility in a blighted area where locally-raised beef, pork, and lamb is hand-cut and packaged for sale (Processing UAZ)
• Other types of improvements to the physical infrastructure of a lot or building that result in local food being grown, processed, or sold
In all of these cases, there are specific UAZ requirements that may need to be addressed and zoning, building and animal codes that may need to be complied
with.
The passage of this ordinance reflects the commitment of the City of Kansas City, Mo. to urban agriculture and local food as strategies to address the prevalence of food deserts, the abundance of vacant lots and empty buildings, the high rates of diet-related diseases, and the potential for economic development and jobs creation that the emerging local food industry shows.
The UAZ process is not quite ready to roll out yet, the city staff and the KC Economic Development Corporation who will be responsible for implementing the ordinance are developing the details of the application and review process, but they hope to have it up and running soon.
Cultivate Kansas City staff can help you sort out if you might be eligible for a UAZ designation and assist you in going through the process once it's finalized. Contact info@cultivatekc.org for more information.
Missouri Revised Statutes Chapter 262, Section 262.900 allowing municipalities and counties to establish UAZs