Urban Grown Farms & Gardens Tour in Planning Stages for 2015
By Ami Freeberg, communications and outreach manager
Cultivate Kansas City's biennial Urban Grown Tour is slated for June 27-28, 2015 to showcase the good food that is growing our city's neighborhoods. Next year's event will celebrate 10 years of growth since the first tour in 2005! We are looking for urban farmers, community or school gardeners, and urban homesteaders to showcase the diverse and innovative ways Kansas City is growing good food.
In 2013, Kansas City hosted the nation's largest tour of urban farms and gardens, featuring 60 sites on the two-day, self-guided tour. More than 2,000 visitors explored, learned and got inspired by the people and places that produce food that's feeding Kansas City.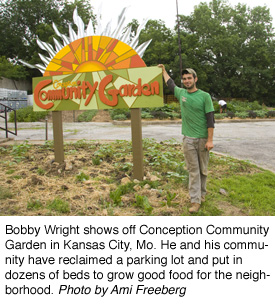 From a 13-acre urban farm and orchard in Kansas City, Mo. to a training farm for refugee families in Kansas City, Kan. and suburban yards that are challenging the norms of landscaping in their neighborhoods – this tour has it all!
"People went crazy over our no-till veggie fields, orchards and passive solar house project and the sheer scale of our farm," said Brooke Salvaggio of URBAVORE urban farm, featured on the 2013 tour. "It convinced them that urban food production can actually feed LOTS of people."
Tour participants are grateful for the opportunity to explore, connect and learn from Kansas City's growers.
One visitor wrote, "My husband and I loved this tour! We walked away with new-found knowledge and new ideas. Thank you to everyone involved especially the organizers and host farms and gardens."
We're building on that enthusiasm as we begin planning for the 2015 tour.
All food production sites are welcome to apply. Sites will be selected by a panel of growers, volunteers and Cultivate Kansas City staff to include a diverse variety of sites spread out geographically across the Kansas City Metro area within the Interstate-435 loop. The panel will look for farms and gardens that demonstrate unique and innovative growing practices and work toward strong community engagement.
Applications for the 2015 Urban Grown Tour will be available in July and site visits will be scheduled for August and September. Final site selections will be made by the end of October. The number of tour sites will be reduced this year so that our staff and volunteer planning committee will be able to dedicate more quality time and attention to each site.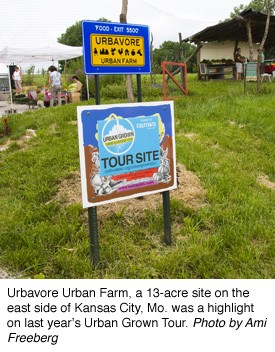 Due to increasing interest and applications over the past few years, we also expect the application process to be more competitive. As a tour site, you must to agree to:
• Participate in a site visit by a Cultivate Kansas City representative before the event.
• Share enthusiasm, knowledge and experience about your urban farm/garden with visitors during the tour.
• Be open to tour visitors both Saturday and Sunday, June 27 and 28, 2015.
• Have a minimum of two hosts on-site for the full days of the tour to lead tours.
• Help recruit volunteers to welcome visitors and check tickets at your site. Cultivate Kansas City will also work to recruit volunteers, but we need your help!
• Engage your community with the Urban Grown Tour.
• Act as a positive representative of Cultivate Kansas City and the Urban Grown Tour.
• Allow photos to be taken by Cultivate Kansas City photographers and allow photos submitted with your application to be used to promote the event.
Thank you for understanding as we work toward creating an Urban Grown Tour that is successful and sustainable in the long-run.
If you would like to be notified when applications are available, contact ami@cultivatekc.org.