Cultivate Kansas City's Newsletter
India: Journeying full circle
By Ami Freeberg, communications and outreach manager
As long as I can remember, good food grown close to home has been an important part of my life. From terrorizing my mother's gardens as a small child, to running a pop-up café at our local farmers market with my family, to "roll your own vegetarian sushi parties" as our family's Christmas Eve tradition – food was at the heart of how I was raised. Another fundamental part of my upbringing was Transcendental Meditation (TM), a meditation technique for stress release founded by Maharishi Mahesh Yogi. My parents were both TM teachers and moved to Fairfield, Iowa to be part of a community that valued meditation and well-being. I attended the Maharishi School, where we learned Sanskrit as our foreign language, and meditation and yoga was part of the school day. So, as deep as food runs in my upbringing, I feel like Indian culture is as much a part of my heritage as is possible for a white kid from rural Iowa.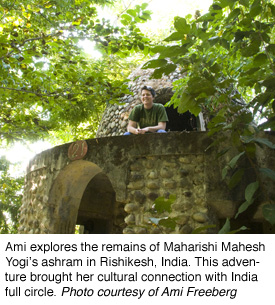 In high school, I had the opportunity to participate in the World Food Prize Global Youth Institute, a three day event in which chosen students get to interact with World Food Prize laureates. The theme that year was rice. Given my love of sustainable food production (although it wasn't a conscious love at that point) and my affinity for Indian culture, I chose to write about the biodiversity of rice production in India. I first came across Dr. Vandana Shiva – physicist, ecologist, activist and author who is changing the way the world thinks about food, agriculture and sustainability – in this context and her passion stuck with me. 
While at Grinnell College, I supplemented my sociology degree with a concentration in global development studies and tailored as many of my courses, internships, and practicums as possible to food and agriculture. Dr. Shiva's work came up repeatedly in my global development courses – whether fighting for water that was denied to peasants as dams were developed, or creating a network of seed savers and organic farmers all across India to preserve the country's biodiverse crops, Dr. Shiva was clearly a force in creating a more sustainable and just future for her country and around the world.
In 2012, we began brainstorming who to bring to Kansas City as a speaker for the Urban Grown Farms & Gardens Tour. Dr. Vandana Shiva's name made the list, but the timing didn't work out until a year later. In the spring of 2014, Dr. Shiva addressed a sold out crowd at Unity Temple sharing her message of cultivating diversity, freedom and hope to create food democracy.
While Dr. Shiva was here, she mentioned a course she was leading on Ghandi, Globilzation and Earth Democracy at Earth University, her learning center on a farm in northern India. I was sold.
In November, I ventured to India to participate. I joined 40 companions from all over the world on a 10-day journey exploring the principles of Gandhi in our modern, global environment. We learned from three incredible teachers – Satish Kumar, a former monk and long-term peace and environment activist; Professor Venerable Samdhong Rinpoche, the previous prime minister of Tibetan government-in-exile regarded as one of the leading Tibetan scholars of Buddhism and top authorities on the teachings of Mahatma Gandhi; and, of course, Dr. Shiva. We covered four key principles of Gandhi's philosophy.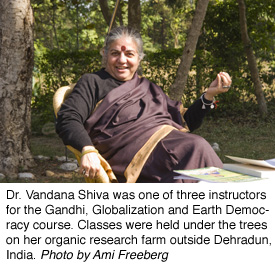 Sarvodaya. Swaraj. Swadeshi. Satyagraha.
Sarvodaya means "upliftment of all beings." Gandhi recognized that all beings – human, animal, plant, and nature alike – have intrinsic value and have the right to live and flourish. He believed that nature is not a resource, but rather a source of life, and if we respect and care for the value of all beings, they will nourish life.  
Swaraj means "self-governance." In nature, there is no president – nature provides 8.4 million species (minus humans) with food, water, and shelter, all without organized government, technology or money. Swaraj, on a personal level, means management of the home in a self-reliant manner.
Swadeshi means "localism." Human beings are makers, not consumers, we should be creating things to support ourselves and our family. What we cannot make ourselves; we should seek to obtain from within our community, then our town, then our state, then our country, and minimally from global trade.
Satyagraha means "militant nonviolence," an idea for which Gandhi is well-known. Violence is any action which is undervaluing or undermining another person, being, or nature. Satyagraha is insistence on truth because when you have the power of truth, you don't need the power of a gun or violence.
As much as we learned and were inspired by the teachers of the course exploring these four principles of Gandhi, in many ways we grew more through the conversations and connections we made with each other. A common thread throughout our conversations was how to apply these idealistic principles in our life and work in modern times. For most of the participants, myself included, we already believed in the value of these ideals, so the content of the course wasn't life-changing in that sense.
When I returned home and shared the ideas I had learned with friends, a few pushed back, saying sure, that's great in theory but those principles are not practical in our modern, global life. This was the same conversation we had circled around on repeatedly, and never resolved, during the course. During these conversations back home, I realized what had been life-changing about the course and my journey to India – even if ideals are not entirely practical in our daily lives, without them we have nothing.
For me, the ideals that were put into words by Gandhi resonate deeply with my personal history and my current work and values. Sarvodaya. Swaraj. Swadeshi. Satyagraha. These are ideals I hold close to my heart and let guide my thoughts, words and actions.