Cultivate Kansas City's Newsletter
Field Notes from the Gibbs Road Farm
By Josh Smith, farm manager, Gibbs Road Farm
The winter season has brought a lot of change at Cultivate Kansas City's Gibbs Road Farm. Alicia Ellingsworth, who managed this farm for the past six years, has moved to our Juniper Garden Training Farm to mentor farmers in the New Roots for Refugees program. She will be missed here, but her legacy of beautiful harvests and care for the earth on this urban farm remain.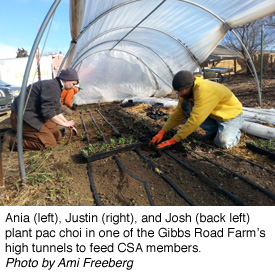 With spring fast approaching, the hoop houses are in full production with overwintered spinach and newly seeded beds of lettuce, carrots, and beets to feed the 40 members of our Community Supported Agriculture (CSA) program, which begins in just two weeks. In the greenhouse we continue to grow our microgreens for restaurant customers, and the remaining benches are filling quickly with new seedlings.
We have started onions, leeks, scallions, brassicas, lettuce, Pac choi and many others for our transplant sales in April. As the field soil freezes and thaws, the fungi and microbes are recharging the beds for early spring plantings. We have also taken advantage of the last few weeks to organize our toolshed, sharpen our hand tools, and inventory our equipment.
In February, myself and Justin Mitchell, who is in his third year working on the Gibbs Road Farm, welcomed two new crew members on to our team this season – Ania Wiatr and Neil Rudisill.
Ania, who was born in Poland, has been involved in farming since she was a child when, helping her grandparents every summer. Ania's passion for growing food is paralleled by her love of music, which she studied in college before working as a sound engineer for five years. Her life path led her to London where she reconnected with her passion for gardening and shifted her career goals. Ania went back to school and studied horticulture at Opel Manor College while interning at the Garden Museum of London. She then worked with British garden designers as a head gardener at Central London Park surrounding the Imperial War Museum.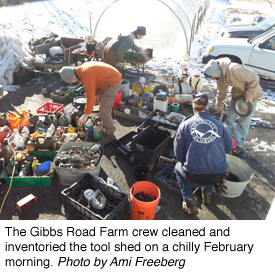 Last year, Ania and her partner, Emily, moved to Kansas City to fulfill their dream of starting a small urban organic farm and becoming part of our blossoming community of organic farmers and growers.
We're excited to have Ania on our team as well as Neil.
Neil is a self-proclaimed "built environmentalist" who was drawn to Cultivate Kansas City to better understand productive growing on small scale spaces in urban settings. In addition to working with our Gibbs Road Farm crew, he is a nursing student at the University of Missouri-Kansas City, a member of the Ivanhoe Neighborhood Council, and an activist with Stand Up KC.
Neil believes to achieve a healthy built environment, a community must prioritize access to healthcare, housing, and nutrient-rich food. ​He looks forward to taking his experience with urban agriculture and applying it into his neighborhood's built environment.
All of us here at the farm are excited for the new season and look forward to connecting with you this spring. Please stop by and see us at the Kansas City Food Circle Expos, the Gibbs Road Farm's transplant sales or the Brookside Farmer's Market starting in April. Find all of the event details here.