Cultivate Kansas City's Newsletter
Urban Grown Tour celebrates 10 years
By Ami Freeberg, communications and outreach manager
Farmers and gardeners from 30 sites that will be showcased on the 2015 Urban Grown Tour gathered in the Bluford Library in February to kick off their participation in this event. Two themes emerged among the group as each grower introduced themselves – passion and community.
These folks have passion for good food. Passion for sharing their knowledge about growing and eating good food. Passion for helping people reconnect with their food. Passion for growing community alongside the food crops.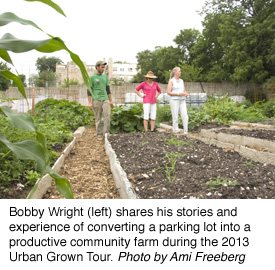 Come enjoy this passion that drives Kansas City's urban growers during the Urban Grown Tour June 27-28 and become part of the community working to build a sustainable, local food system. This self-guided tour of farms and gardens is your chance to visit folks who are feeding Kansas City; glean ideas for your home garden, learn about keeping chickens in your backyard, understand what it takes to run a farm business in the city, and get inspired by neighbors working together to feed each other.
The Urban Grown Tour is a family-friendly event offering adults and youth alike an opportunity to see how food is grown and reconnect with the people who are growing it. We're rekindling a connection that has been lost over the last century as people migrated from the country to cities where food was no longer an integral part of the landscape.
Over the last decade, Cultivate Kansas City has reintroduced food to the urban landscape, with an emphasis on supporting entrepreneurial farm businesses. This tour celebrates 10 years of tremendous growth, while looking forward to the next decade.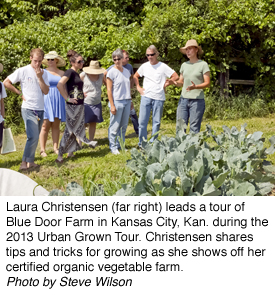 To kick off Urban Grown activities, a group of leaders in our local food movement will discuss how Kansas City's local food system has transformed in the last 10 years and how together we're building a vision for the next 10.
One major area of growth we're celebrating this year is the emergence of chefs bringing the fresh flavor of local farms into their restaurants. We encourage Kansas City to Eat Out Local on Thursday, June 25, to celebrate and support the incredible restaurants that value and support local farmers. The full list of participating restaurants will be available in June.
Meanwhile, the fun is just beginning.
What better a way to celebrate 10 years of cultivating Kansas City than having a picnic with all of you? Join us June 27 on the lawn of the Westport Middle School. Pack a basket, bring a blanket, and come enjoy the company of urban agriculture and local food enthusiasts. We'll bring the birthday cake, music and surprise activities.
The same passion and community that filled the room this winter will be in full bloom come June.
Urban Grown Event Overview
June 24 | Urban Grown Kick Off | Kansas City Public Library
June 25 | Eat Out Local | Participating Restaurants
June 27-28 | Urban Grown Tour | 30 Farms and Gardens around Kansas City
June 27 | Cultivate Celebrates 10 Years | Westport Middle School
More details to follow. Go to www.cultivatekc.org/urbangrowntour for more information.