Cultivate Kansas City's Newsletter - October-November, 2013
Consider a seed
Dayna McDaniel, SeedSavers-KC
Consider a seed. It is, by itself, a rather unpretentious bit of organic matter when viewed individually.
Yet, look at what one amaranthus seed the size of a grain of salt can produce in one summer's season of growth. It will grow to 8-feet in height providing several bushels of nutritious, tasty greens and at the end of harvest and three to four cups of high-protein seeds. The power inside that seed is amazing. Seeds always have and will continue to be a great source of fascination to me as a gardener. That's why I'm happy to be a part of SeedSavers-KC's Seed Library here in Kansas City.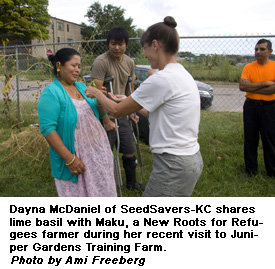 The biodiversity of our open pollinated seeds in the United States and worldwide has dropped alarmingly in the past 50 years and is expected to further decline rapidly due to the introduction of biogenetically altered seeds (GMOs). Hybrid seed production in the 1940-1950s started a trend in the U.S. during which people stopped saving seeds and began buying hybrids. Hybrid seed doesn't grow true if you save it, so it's normally discarded. Previously, seed-saving was a normal activity in most households, a centuries-old tradition for as long as mankind has been growing crops.
Thankfully we have several groups in the U.S. and worldwide working to revive the tradition of seed-saving and help save the biodiversity of our seeds. Seed Savers Exchange (SSE) is one group I belong to that has numerous free educational webinars on its website. I really became interested in the seed library from a presentation I saw at the SSE 2012 Campout Festival and it seemed like such a great fit for Kansas City. We have such a growing community of urban farmers that could help fuel the seeds for a seed library.
Things got even better when I was invited to visit the Juniper Gardens Training Farm to meet with farmers in the Roots for Refugees program, a partnership of Cultivate Kansas City and Catholic Charities of Northeast Kansas. Katherine Kelly, Cultivate Kansas City's co-founder and executive director, asked me to invite the farmers to add their seeds from their homelands to the seed library collection I started here.
About a week later I met with Katherine and three farmers from Bhutan: Maku, Tula and Upendra to tour the gardens, along with our interpreter Om Rai. I was thrilled to come together in these beautiful gardens full of butterflies, bees, blossoms galore, and lovely scents in the air. I had to keep taking deep breaths to not talk too fast and give the interpreter time to do his job. But I had so much to tell them! Talk about eating local and thinking global – this really was that idea. We have new citizens from all over the world, growing organic produce and selling in our farmers markets. These farmers live here, they grow here, and they sell here but they bring with them rich and diverse cultural heritages from around the world.
Maku showed us a gourd, similar to a snake gourd, that grew from seeds brought from her homeland. She uses the gourd in curries and fries it. Underneath it she had green beans growing where the gourd leaves provided some grateful relief from the late summer heat. Tula gave me a beautiful bright green long spicy pepper – "not too hot," he said. He also wants to share seed from his dark burgundy basil with the seed library this fall. Just thinking about the sweet, rich fragrance of the leaves makes my mouth water in anticipation of their spicy flavor. He also had some bitter melon drying for seed-saving. Katherine tasted it and said it's sweet at this stage after turning red. This new understanding of these foreign plants brings us into an incredible gastronomic journey of global cuisine and how we can enrich our dining experiences with these vegetables and fruits.
As we walked around the farm, I noticed another farmer bundling a large mass of what appeared to be hibiscus branches. He had clippers, which I needed, so I asked to borrow them and he graciously gave them to me with a huge grin and offered me a leaf from his harvest to eat. Katherine told me this was called Chin baung, a hibiscus used for cooking or sautéing. Wow! It was tart, lemony and delicious. Previously, I had only used my flowers for tea, now I couldn't wait to eat the leaves off this plant as well.
The farmer who gave me the leaf of Chin baung asked, "How much?" pointing to seedling strawberries I was carrying. Katherine and I both said "free." What a great grin he gave me again! I brought these alpine strawberry plants to share, along with seeds I had saved from Barbados Bonnie Pepper, lime basil, Japanese parsley and some "red wonder" seedlings. It was so rewarding to share my seeds and plants with those who shared their culture with me. I continued handing out seeds to other farmers that I met as I strolled around the farm. What a rich place for learning about gardens and people.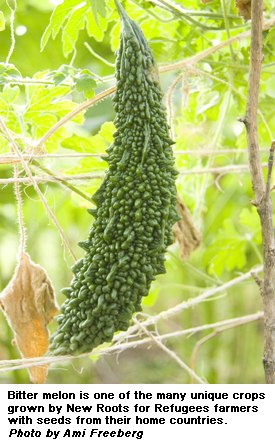 So what's next? I will be bringing back a group of volunteers to interview the farmers individually. The goal is to learn as much as we can about the seeds they want to share with the library and photograph the fruits, vegetables and plants before they harvest the seeds from them so we know what they look like. We'll gather recipes for these new vegetables and we'll chronicle the information in a database so we can put it onto the seed packages themselves to share with everyone who grows their seeds.
The three farmers graciously agreed to speak to any of our SeedSavers-KC events, including our seed saving classes, annual seed exchange or even the citywide plant exchange.
One thing I have learned about seed saving is that every seed saved has a story behind it that is waiting to be told and written down for others to pass along. This is a very important part of seed saving that makes seeds come alive as you trade seeds with other people and learn those stories. It will be such an exciting journey to learn the stories behind the seeds of Maku, Tula, Upendra and the other New Roots for Refugees farmers. My fingers are tapping in anticipation of the adventure. I hope you can come join me in this project.
Learn more about SeedSavers-KC.