Cultivate Kansas City's Newsletter - October-November, 2013
Second annual Dig In, KC! brings food, farms and communities to life
Allison Harding, Dig In, KC! Co-chair, Cultivate KC Board Member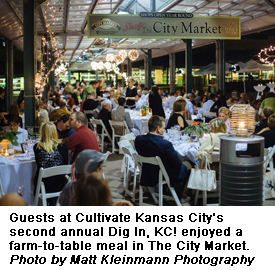 Our mission of growing food, farms and community came to life at our second annual Dig In, KC! event on Sunday, Sept. 22. What a joy to watch as more than 300 members of our community came together for a special night under the stars at our city's Historic Downtown City Market. On this first night of fall, Mother Nature did not disappoint. It was a perfectly clear, 75-degree evening to enjoy live music by Trio Aztlan, shop for beautiful produce from several of Kansas City's own urban farmers, engage in great conversation and taste amazing food prepared by local chefs with more than 500 pounds of locally grown food. Even the table centerpieces of kale and zinnias were locally grown just for this event.
Emcee, Susan Hiland of Fox 4 News, introduced the meal and shared her appreciation for fresh, healthy food and the work of Kansas City's farmers.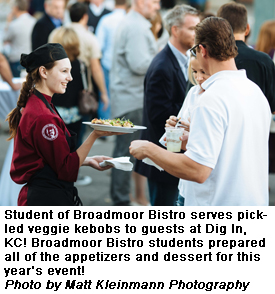 "Perhaps many of you feel the way I do…the issues around food, food access and food deserts seem overwhelming. When I visited the Gibbs Road Farm, standing under that blue Kansas sky among towering sunflowers and row after row of vegetables, one thing seemed clear – this city needs urban agriculture," she said. "I hope it becomes clear to you as well, as you "Dig In" to this delicious meal. We know our food system is broken. Kansas City, with all its wealth and prosperity, has too many people that don't have access to fresh and healthy food. That impacts all of us. But please know that by sharing this meal with us tonight, we've taken a first step to make a difference."
This year's presentation focused on food deserts in our community and highlighted startling information. About 85,000 people in Kansas City live in a food desert; more than 6,000 families go hungry, and the most vulnerable in our community are children. Guests learned how Cultivate Kansas City is "growing" a change and making a difference by working to put farms in some of our most blighted communities so that residents gain access to good food. Gardens and farmers markets help to teach, not only how to prepare healthy grown food options, but even more basic things like, "What is an eggplant?" and "What is a tomato?"
As we dined on appetizers prepared by the students of Broadmoor Bistro, Shawnee Mission School District's culinary school, and passed family-style dishes including sweet potatoes au gratin, braised greens and roasted pork, during dinner prepared by chefs Michael Foust (the Farmhouse), Renee Kelly (Renee Kelly's Harvest) and Charles d'Ablaing (Hotel Raphael), our guests learned about farmers who are really making a difference.
Sarah Dehart, an urban farmer in training, shared the story of a fellow farmer, Beh Paw, a refugee from Burma, who arrived in Kansas City with nothing. She discovered Juniper Gardens Training Farm, a Cultivate KC partnership with Catholic Charities of Northeast Kansas. She worked tirelessly to learn the business of farming and was among the first to graduate from the farm's training program, along with her sister, Pay Lay. The sisters bought a two-and-a-half acre vacant lot with money earned from the program and started Ki Koko Farms. The income from her business has changed Beh Paw's life.
Dina Newman, founder of Grown in Ivanhoe, told guests about one of her most successful participants, Francine. After being diagnosed with cancer, Francine lost her job. Chemotherapy treatments had taken a toll on her body, mind and spirit. When she came to the first Grown in Ivanhoe class three years ago, she was new to gardening. Anything green she put her hand to, she said, quickly died. But she wanted to learn how to grow her own food because her health depended on it. A few months later, she came to a class, literally trembling, while holding a fist full of collards, ,and told everyone there: "I grew this." Last year, Francine began her own micro-agriculture business, "Black to Green Thumb" and is a vendor at Ivanhoe's farmers market.
The good food, conversations and stories touched many hearts at this year's event. Dig In, KC! raised more than $30,000 to help Cultivate Kansas City continue making a difference, growing food, farms and community.
Thank you to everyone who attended, to the students and chefs, to our emcee Susan Hiland, to the farmers, our sponsors and to the volunteers who spent countless hours to make the evening a success!
Special thanks to our Cultivating Kansas City sponsors: Blacktop Creative, SPACES Magazine, CHOW Town, Laurie Bomba & Andy Fromm, and Chipotle Mexican Grill.
We're already looking forward to next year!
Check out more photos from 2013 Dig In, KC!