Cultivate Kansas City's Newsletter - October-November, 2013
Field Notes: Growing from seed; reaping what we've sown
Alicia Ellingsworth, Gibbs Road Farm Manager
At Gibbs Road Farm, we start everything from seed. Chard, kale, tomatoes, peppers, eggplant, onions, leeks and many other crops begin as seeds in the greenhouse in January. This year we figured out a new, super-quick way of seeding flats and it was so easy that we found ourselves transplant-rich in April. So, we shared. As we do each year, we sold many transplants at the Brookside Farmers' Market and at our annual transplant sale at the farm; then we sold them wholesale to other market farms, and donated to non-profits and school gardens. We even sent plants to Oklahoma along with hope in the aftermath of the Moore tornado. We still had plenty. Then, we began to trade. We traded for what we needed – straw mulch, peach trees and compost.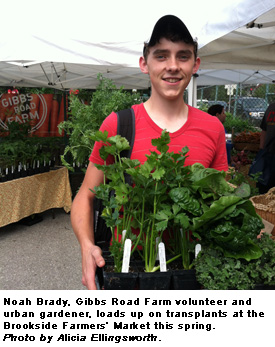 As the season rolled along, we gathered stories and photos of where these transplants settled in and are living out their lives. These transplants started at Gibbs Road Farm and fed the city this summer. It's a grandmother-proud kind of feeling; humbling and powerful at the same time. The transplants on our farm have fed us and have produced enough to overcome very high budget expectations. Because of these transplants, along with many seeded beds of beets, carrots, garlic, potatoes, greens, spinach and scallions; we are looking at reaping a very successful year.
As with any market farm, Gibbs Road Farm needs to meet these budget goals in order to survive, thus being a model for others interested in taking on the venture. As a program of Cultivate Kansas City, Gibbs Road Farm also grows farmers and community. Seeds we've sown beyond vegetable transplants and field crops – seeds of the local food revolution – have taken root and are changing the way individuals engage with food in their own lives and how they think of themselves within their communities and the city. After some time at Gibbs Road Farm, I believe, they begin to see themselves belonging to the soil and the earth. Both literally and figuratively, Gibbs Road Farm is feeding the good food revolution in our city.
Crew members leave the farm with a real-life working understanding of how to farm. After many months of seeding, planting, weeding, laying drip irrigation, harvesting and marketing our vegetables; crew members leave Gibbs Road Farm to go out and participate in the revolution. Some continue to farm, others find another role, but they always find their voice within the movement. Volunteers come and go from the farm with a growing fire within – a fire lit by participation and fueled by moving, by growing and of belonging. Gibbs Road Farm feeds these needs as it feeds the seeds and our city reaps the rewards. The farm is stronger because of all who come here and we are stronger because of our time on the farm.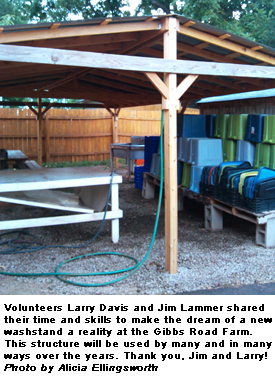 Seeds sown are growing into relationships and these relationships grow community. We made a commitment last winter to rebuild the washstand to provide better protection against the weather for crew and crops during post-harvest washing. From the labor of two volunteers, Larry Davis and Jim Lammert, this new washstand now stands strong, beautiful and ready to host not only the veggie washing, but other community gatherings. Community, once seeded, grows and is nurtured.
By doing what we're able and from sharing what we have, Gibbs Road Farm and the community that has created it over many years has grown the revolution from seed. This revolution is about hope, about food and about designing a future of health, participation, hard work and great reward. It's October now. We've harvested much this summer, but we never stop planting. There is still time to plant spinach seed for winter's harvest. It's never too late to plant that seed…you never know what might grow.