Cultivate Kansas City's Newsletter - October-November, 2013
Jill Erickson joins Heartland Conservation Alliance staff
Katherine Kelly, Co-founder and executive director, Cultivate Kansas City
One of the many gifts our organization has is how we provide a starting point, a midway point, and act as a catalyst for so many good people in the city. Over the years, we've had people on our staff – in the field and in the office – that have gone on to do amazing work in Kansas City. We've benefitted from what they've given to us and they've allowed us to help them move forward on their own path to being change-makers for our community. Some have become farmers, some have gone into public health, education, policy work, and others have honed their non-profit management skills and gone on to contribute to the missions of other organizations. As an organic farmer, I think of this as the human version of nutrient cycling. A healthy system is one in which the elements of life – atoms, molecules, energy- are in a constant state of motion, moving from the soil to plant life to animal life and back again. Our human brains, hands, and hearts are at their most vital when they are engaged in a similar process of transformation and exchange. I'm so glad when our organization supports and contributes to this process.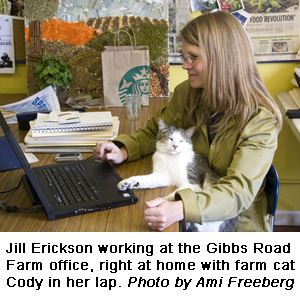 Over the last three years, we've been grateful to work with Jill Erickson, our development and communications director. When she started this job, one of her accomplishments was co-founding an urban land conservation organization, the Heartland Conservation Alliance, as part of a committed group of volunteers. They recently were awarded a grant that allowed them to hire their first staff member. After being part of the group that crafted the job description in advance of the hiring process, Jill realized that she wanted the job. So she applied and was hired.
In a very short period of time, Jill has helped us improve our communications, set up systems, strengthened and grown our fundraising efforts, and brought in some incredible volunteers and community leaders. Her organization, vision and clarity have left an indelible mark on us and will forever be a part of the DNA of Cultivate Kansas City. We applaud her for acting on her passion and look forward to the work Heartland Conservation will do for Kansas City. We will also miss her daily presence in our lives. Thank you, Jill, for all you've given us!