Cultivate Kansas City's Newsletter - October-November, 2013
Get to know your food; The Kansas City Food Circle levels of assurance
Emily Akins, Co-coordinator, Kansas City Food Circle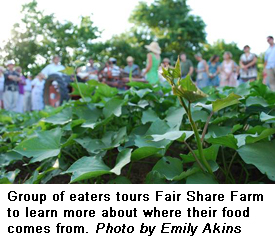 What motivates people to shift away from the industrial food complex and into a more vibrant, local foodshed? For some it may be a desire to avoid the mystery shrouding the provenance of the many processed foods you find in the grocery store. It's hard to feel fully confident about foods that come from "undisclosed locations." The current complaint among a lot of consumers is the uncertainty surrounding genetically modified organisms (GMOs). As the public begins to demand that foods with GMOs be labeled, consumers are asserting their right to know and asking for transparency. Many folks have decided that they have a right not only to know where their food comes from, but also to know what goes in it. A great way to get to know your food is to get to know the farmers who grow it. The Kansas City Food Circle (KCFC) is ready to help with precisely this goal.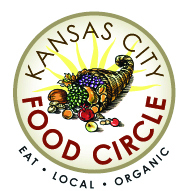 The KCFC connects eaters with our nearly 90 farm members who are all local, organic, and free-range food producers. We list these farmers in our annual directory so that they and their farms are easy to find and to get to know. Many offer Community Supported Agriculture programs (CSAs) and many more also offer farm tours which allow you to see vegetables, fruits, and livestock up close and personal so that you can feel confident about where your food comes from. We also feature a list of organic farmers markets enabling people to buy directly from and to build a relationship with organic farmers.
When consumers buy local, organic, and free-range food from KCFC members, they can rely on our three Levels of Assurance.
Level one is a United States Department of Agriculture Organic (USDA) certification, which provides a high level of assurance for eaters concerning the avoidance of synthetic pesticides and fertilizers. It is based on detailed requirements and regular inspections by qualified professionals. As a label, certified organic has been legally defined by the www.ams.usda.gov/AMSv1.0/nop"target=_blank">USDA. Some KCFC member producers hold a USDA Organic National Organic Program certification. However, the certification process can be prohibitively expensive for small producers. This has led to the use of some alternative means of assurance.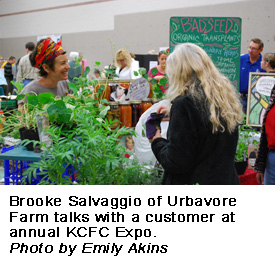 An alternative to organic certification is Certified Naturally Grown which is our KCFC level two assurance. It is much like USDA Organic but relies on inspections by volunteers, usually other farmers, who fill out a form that is posted on the website so it can be easily viewed by the public. Any exceptions to the standards are noted on this form. Some KCFC member producers are Certified Naturally Grown.
Level three is the KCFC Member Producer Pledge: KCFC promotes many small producers and has developed a system of written pledges for our members that relies on the good faith of producers and on the willingness of eaters to establish a relationship with their farmers to their own comfort level. KCFC will only make inspections in response to credible and serious complaints from eaters or other KCFC producers. Our pledges are also very similar to USDA organic. All KCFC member producers have completed and signed our Producer Pledge. Any exceptions or changes are noted on our website, www.kcfoodcircle.org.
As the local food movement continues to grow and change, knowing the right questions to ask can help consumers get the information they need to make a fully informed decision. KCFC provides a list of questions to ask a grower on our website and in our printed directory.
KCFC knows that consumers are looking for honesty and transparency in their food sources. It's our goal to connect eaters in the Kansas City metro area with food that is honestly and clearly local, organic and free-range, though we realize that there are many steps along that journey to clean eating. The information that we provide empowers consumers to take control of their food, to make informed decisions at each step along the way and to stay up to date on the changes in the marketplace.
More importantly, the KCFC resources enable eaters to build a relationship with the growers who produce their food, whether through trips to their neighborhood farmers market, a CSA membership, or frequent farm visits. Remember, the best way to know your food is to know and trust the women and men who grow it.
Connect with the KCFC on Facebook and Twitter to stay up to date on the latest information on local and organic for consumers.