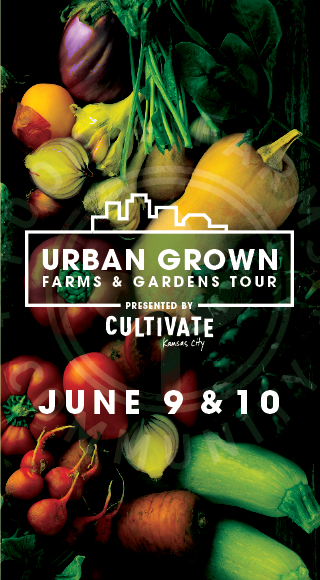 Urban Grown Farm & Gardens Tour 2018
Cultivate Kansas City's Urban Grown Farms and Gardens Tour is an opportunity for the community to celebrate the inspirational farms and gardens throughout our city. 
Mark your calendars for this year's tour on June 9 and 10.
Explore 24 of Kansas City's urban farms and gardens that are growing food for your plate.
This self-guided tour is your chance to visit and learn from the diversity of food projects that are changing the way our city eats! 
Supporting events
An evening with Tom Philpott

Wednesday, June 6; 6 p.m. to 9 p.m.

Mahaffie Stagecoach Stop and Farm
Tom Philpott is the food and agriculture correspondent for Mother Jones Magazine. Prior to joining Mother Jones in 2012, he spent five years as a columnist and food editor for Grist Magazine. He was a cofounder in 2004 of Maverick Farms, a small organic vegetable farm and center for sustainable food education in Valle Crucis, North Carolina.


Join Cultivate Kansas City for a conversation about local food systems as part of our Kickoff to this year's Urban Grown Farms & Gardens Tour. Tickets are free, but registration limited.
Cooking Out of the CSA Box | Parking Lot Pop-Up

Thursday, June 7; 4:30 p.m. to 6:30 p.m.

The parking lot of the Ewing and Muriel Kauffman Memorial Garden
We are cohosting this event, where two local chefs will throwdown in a cook-off using ingredients from the CSA offered by Powell Gardens. Bryan Zachery Sparks, executive chef of Broadway Bistro, and executive Chef Bryant Wigger of Tavernonna in the Hotel Phillips, will face-off in a down-and-dirty vegetable challenge using produce from Powell Garden's CSA (Community Supported Agriculture) subscription box. This pop-up provides the opportunity to learn more about Powell Gardens and its partners Cultivate Kansas City and Giving Grove. The event includes cooking demos and tastings, an on-site tour of the orchards and community garden at Kauffman Legacy Park. Cooks can also purchase copies of former KC Star food editor Jill Silva's "Eating for Life Cookbook" and local food advocate Beth Bader's "The Cleaner Plate Club," both with plenty of creative recipes featuring vegetables.
Urban Grown Farm Crawl

Saturday, June 9; 12:30 p.m. to 5:30 p.m.

Cultivate KC Farm Sites 
Stop by the Cultivate KC farm sites during the Urban Grown Farms & Gardens Tour and enjoy food and drinks from local vendors.


Stop #1:

12:30 p.m. to 2:30 p.m. at The Food Forest (5424 Mastin St., Merriam KS)

Howard's Grocery, Cafe and Catering + Crane Brewing Company


Stop #2:

2 p.m. to 4 p.m. at Westport Commons Farm at Plexpod

The Sundry + Restless Spirits Distilling


Stop #3:

3:30 p.m. to 5:30 p.m. at Juniper Gardens Training Farm (1800 Richmond Ave., KCK)

Betty Rae's Ice Cream + S.D. Strong Distilling


Ticket price includes access to Farm Crawl and two-day tour event. Get your ticket here.
Volunteer at the tour
We are looking for volunteers for this year's Urban Grown Tour.
Volunteering during the tour is the best way to forge a deep relationship with the urban grown movement. Volunteers will be responsible for ticket sales and greering participants. In return for a three-hour shift, volunteers receive a ticket to the tour, an exclusive event t-shirt and a life-long relationship to a farm site growing food for your table. Sign up here.
Interested in other volunteer opportunities? Go here to learn more.